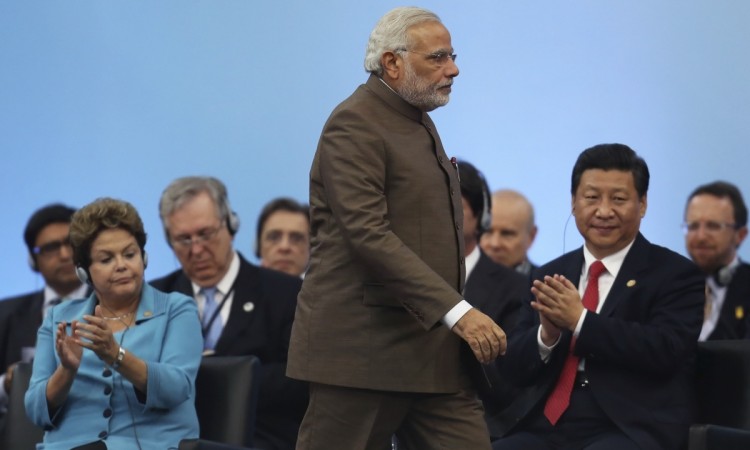 Prime Minister Narendra Modi, attending his first BRICS meet, pushed for a BRICS University and a common youth forum among several other initiatives in his statement at the plenary conference in Fortaleza in Brazil on Tuesday.
Modi put forth his vision and ambition for taking the five nations forward. One of the most significant points he made was that BRICS must be decentralised to be driven by a "People to People" contact, through engagement between states, cities and local bodies.
He also said the five nations should come together to address several global challenges.
"We should intensify our cooperation in confronting global challenges; like terrorism, cyber security and climate change," he said.
Citing the need to focus on tackling poverty, Modi said in his statement that BRICS must also play a proactive role in shaping the global discourse on "Growth and Development," by shaping the post-2015 Development Agenda.
He also pushed for an open trading regime, saying, "We must help shape the World Trade Organisation regime. An open trading regime is critical for strong, balanced and sustainable global economic growth."
He said while BRICS had gained substantial "horizontal" influence, it must focus on deepening "vertical" bonds.
Modi's vision for the youth came through in his statement at the plenary Summit as well, as he pushed for a "Young Scientists' Forum" to create more youth engagement.
He also envisioned BRICS language schools that will offer language training in each of the languages of the five member nations, and "Massive Open Online Courses" to make quality education accessible.
One of the pioneering initiatives Modi brought up was the setting up of a BRICS University. "We could also explore setting up a BRICS University. This would connect campuses in each of our countries; virtually, as well as through intensive student, faculty and research collaboration," he said, also calling for collaboration and competitions in Sports among the member countries.
He also called for a framework for promoting tourism among BRICS nations, and harnessing advanced technologies such as satellite communication and clean-energy technologies.
He finally said BRICS must become a platform of "impact" that will serve the aspirations of the developing world and the world at large, ending on a note that he comes from "a land where the idea of Vasudhaiva Kutumbakam - the 'whole world being one family' is rooted deep in our ethos."