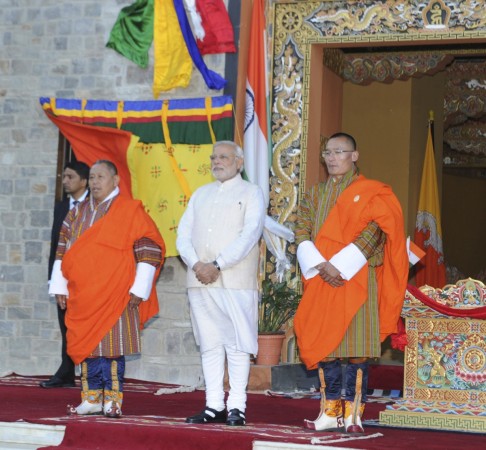 Prime Minister Narendra Modi, who is on his maiden foreign visit to Bhutan after winning the general elections last month, resorted to niceties and promises while speaking about expanding bilateral relations between the neighbouring countries.
On the second day of his two-day visit to Bhutan, Modi addressed the Bhutanese Parliament on Monday where he stressed on bettering bilateral ties in areas such as security, hydro-power, tourism, science and technology and the education sector.
On Sunday, Modi had said that the two countries were "made for each other given the traditional connection between the them," as per a Press Trust of India report. He coined the term 'B2B relations,' stating 'Bharat for Bhutan and Bhutan for Bharat.'
Modi was given a red-carpet welcome and a ceremonial guard of honour on his arrival in Bhutan's capital city, Thimphu. He is accompanied by Union External Affairs Minister Sushma Swaraj and National Security Advisor Ajit Doval among other high officials.
Modi, in his address on Monday, promised India's support through the nation's satellite technology for Bhutan's development, according to India Today. Also promising support in education, he said India will now provide scholarships worth ₹2 crore to Bhutanese students in India, double from before, according to Times of India. PM also said that India would help set up an e-library network in Bhutan that will give the youth in the Himalayan country access to two million books.
While addressing the Bhutan Parliament, Modi praised the neighbouring country for making progress in its education sector.
Hydro-power was a major discussion point, with Modi stressing that hydro-power will benefit both the countries that are connected by the Himalayas. "Our hydropower cooperation with Bhutan is a classic example of win-win cooperation and a model for the entire region. During the visit, we will lay the foundation stone of the 600MW Kholongchu hydropower project," the PM was quoted as saying in the TOI report.
Hydro-power is looked at as an important asset by foreign policy experts. "Bhutan has the potential to generate 24,000 MW of hydropower. It is in India's interests to help Bhutan develop this potential – India can improve its energy security in a long term by purchasing clean, renewable energy from a politically stable and friendly neighbour," said Amit Bhandari, energy and environment fellow at Gateway House, a foreign policy think-tank based in Mumbai, in a press release.
Modi also went on to praise Bhutan's royal family for respecting the rights of its citizens. "Bhutan had transitioned smoothly from monarchy to a democracy," he was quoted as saying.
He also addressed the issue of energy security, stating that it would be the key issue in the coming decade.
Modi had earlier said that Bhutan was a natural choice for making his maiden foreign visit, saying that the two countries shared a 'special relationship.' He also said that having a neighbour like India was a factor in Bhutan's happiness.
Swaraj told the media on Monday that Modi's visit to Bhutan was a successful trip.