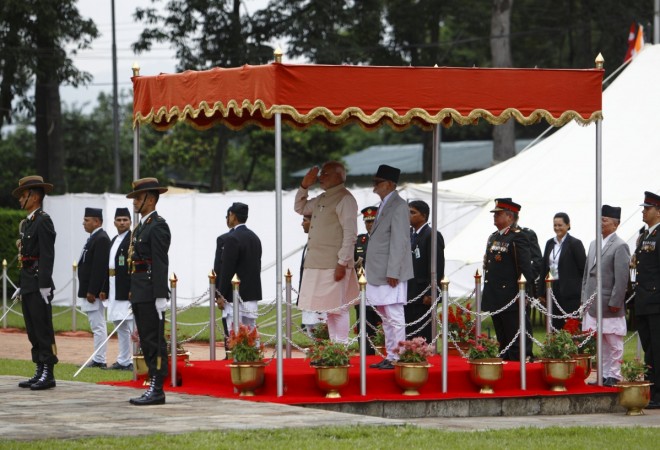 During his two day visit to Nepal, Prime Minister Narendra Modi on Sunday offered $1 billion loan to Nepal for infrastructural development and signed a deal clearing ways for a hydropower project, which was stalled for almost 18 years.
While addressing Nepal's parliament, Modi offered financial help and said that India is willing to help boost Nepal's highways, information ways, transmission ways and its hydropower and infrastructure projects as well.
"You decide what needs to be done, India will stand by you," Financial Express quoted Modi.
He mentioned about the 5600 MW Pancheshwar Multipurpose Project to be built on the Mahakali River at the India Nepal border, and said that it would start within a year.
"It was decided long ago. The cost has gone up by a huge margin over the years but now both the countries have established respective authorities. The project would add five times more electricity than Nepal produces today. Not a small achievement. It will take development to newer heights," Zee News quoted the Indian PM.
Both the countries signed a Memorandum of Understanding to clear way for the project pending since the treaty was first signed in 1996. The MoU allows amendments in projects' Terms of Reference, which was a matter of dispute between both the countries.
Modi said that India is in dire need of electricity, which could be addressed if Nepal harnesses its hydropower production potential and provides India with better power trade.
"Nepal is so rich in terms of water that it can remove darkness in India. We don't want free power, we want to buy it... A development course has to be charted. You decide (on tapping hydel power), we will be with you. You can make a place on the world stage by simply selling electricity... We will double the electricity we are giving you today. In 10 years, you will be helping us," he said.
Both the countries signed two more MoUs, one where India offered ₹ 65 million to Nepal for buying iodized salt and selling it among the people of rural Nepal, the other MoU allowed cooperation between Nepal Television and Doordarshan—national news broadcasting channels of Nepal and India respectively.
Apart from making diplomatic deals, Modi praised Nepal's culture and history and also its Maoists who he said did the right thing by giving up violence and instead choosing the "path of the ballot."
"There are some in the world who believe in the culture of the gun to reach their objectives. With its democratic process, Nepal will send a message to the world and inspire people to abandon the culture of the gun," Modi said.
He also expressed his sadness over the fact that despite being close neighbors, there were no frequent visits to Nepal.
"We live so close to each other but it has taken 17 years to come here. It rankles me. I promise it will not happen again. I will be back very soon for the SAARC Summit here," he said.
Modi is on his two-day visit to Kathmandu, which would end today after his meeting with Nepal President Ram Baran Yadav and other political leaders including opposition leader Prachanda.