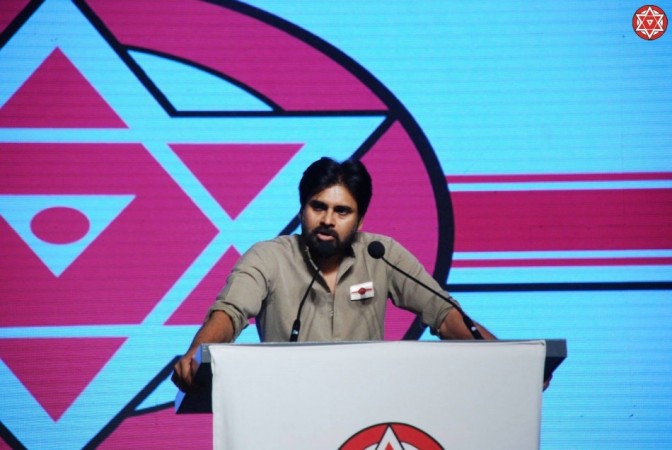 Jana Sena founder and Telugu super star Pawan Kalyan might reportedly be rewarded with a Rajya Sabha seat by the prime minister designate Narendra Modi and the Andhra Pradesh/Seemandhra Chief Minister- in-waiting N Chandrababu Naidu.
Kalyan helped TDP-BJP to gain vast majority both in AP and Karnataka in the last elections with his canvassing efforts.
Speculation was rife in the media, both in Delhi and AP, that the Modi-led Bharatiya Janata Party (BJP) was very keen to show its gratitude to the maverick hero of Telugu cinema, by nominating him to the Rajya Sabha. Kalyan is the younger brother of Congress leader and another renowned actor Chiranjeevi.
He commands a vast fan following in his home state, AP and neighbouring states like Karnataka and Tamil Nadu and came into the public limelight when he lashed out on Congress for corruption.
Reports have it that Kalyan, who headed "Yuvarajyam," the youth wing of Chiranjeevi's erstwhile party Parjarajyam, did not like his eldest brother's act when he merged Prajarajyam party with Congress, which offered the Rajya Sabha seat to Chiranjeevi and made him the Tourism Minister at the Centre. Since then Kalyan revolted against Congress and joined hands with Modi and Naidu, whose mission was also to wipe out Congress in the last elections.
Though Pawan launched his own party Jana Sena, he did not field his party candidates as he did not want to split the votes of TDP. Thus he became dear to the TDP chief Naidu.
When Naidu and Modi of BJP struggled to spread their hold in southern states, Kalyan drew large crowds to rallies for them.
Media reports say that Kalyan was successful in converting the 18 per cent of Kapu community in AP into votes in favour of TDP-BJP in the polls.