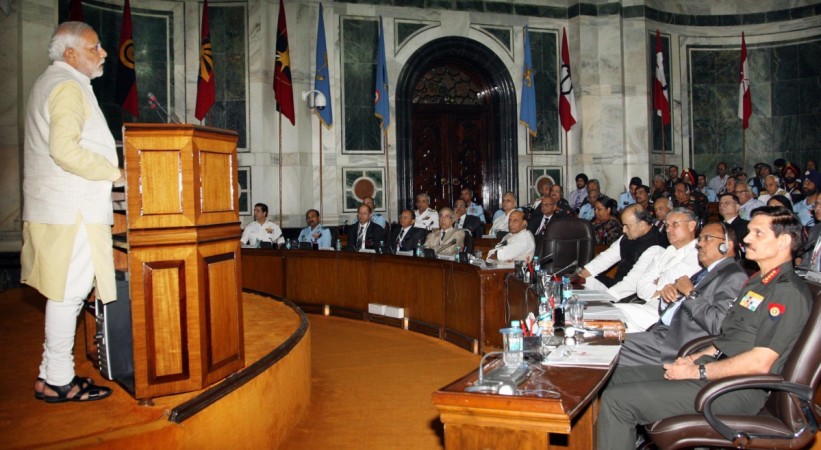 Prime Minister Narendra Modi met country's top military commanders for the first time on Friday at a conference during which he outlined his strategic vision and took a briefing on the overall security situation. The PM, in his meeting with commanders of all three Indian armed forces — Army, Navy and Air Force — also touched upon the border situation.
The Combined Commanders' Conference was held in the Defence Ministry War Room where the three chiefs—Indian Air Force Chief Marshal Arup Raha, Indian Navy Chief Admiral RK Dhowan and Indian Army Chief General Dalbir Singh met Prime Minister Narendra Modi, according to an Economic Times report.
The three chiefs of the Indian Armed Forces gave presentations on overall situation along the borders and discussed a strategic plan to tackle border issues.
During the meeting, infrastructural development along the Indo-China border, where India has planned to construct a 1,800-km road, was among the most importatnt border concerns.
The meeting has been called at the backdrop of security concerns at the border, especially along international boundaries that India shares with China and also in the Indian Ocean region.
While on the one hand, India has been continuously facing ceasefire violations from Pakistani Rangers along the Line of Control in Jammu & Kashmir, on the other hand, Chinese incursions along Indo-China border have become one of its major concerns.
In the latest from the Indo-Pak border, Pakistan has once again resorted to firing along the border in Hamirpur sector of the Poonch district in J&K. However, no casualties have been reported yet.