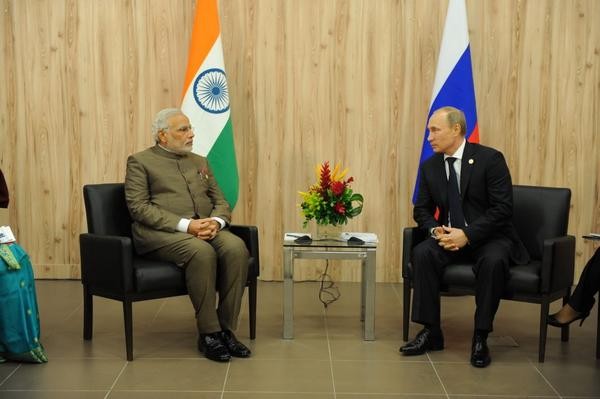 Prime Minister Narendra Modi met with Russian President Vladimir Putin on Tuesday after the first day of the 6th BRICS Summit in Brazil.
Modi called for expansion of the Indo-Russian strategic partnership, and expressed appreciation for Russia's unwavering role in securing India's economic development and enhancing national security. "Russia has been with India in times of crisis," Press Trust of India quoted Modi.
The two leaders discussed ways of strengthening strategic partnership particularly in the areas of defence, nuclear energy, space, energy, trade and investment, people-to-people contacts and addressing regional and global challenges.
The Russian President is set to visit India this December, while Russia has already engaged in diplomacy with the new Modi government when its Deputy Prime Minister Dmitry Rogozin visited India last month. He had met with External Affairs Minister Sushma Swaraj and discussed defence and trade.
Modi is also said to have invited Putin to visit the Kudankulam nuclear plant in Tamil Nadu, which was built in cooperation with Russia. Nuclear power projects and defence equipments have been a constant feature in the enduring Indo-Russian ties.
Putin reportedly told Modi that Russia placed its relations with India high in its strategic framework. Modi later tweeted about his meeting with Putin, saying: "We value our friendship with Russia."
Talked about strengthening Russia-India ties in my meeting with President Putin.We value our friendship with Russia pic.twitter.com/iOUFo1xmUD

— Narendra Modi (@narendramodi) July 16, 2014
The duo also discussed the prospects of a liberal visa regime, with Modi suggesting it particularly for students travelling for studies. "President Putin acknowledged that there was a case for looking at it", Ministry of External Affairs spokesman Syed Akbaruddin said.
This was Modi's second meet with Putin after he visited Moscow in 2001, but the first after he became the Prime Minister of the country following the general elections. Putin is said to have congratulated Modi on his victory.
Modi's bilateral meet with Russia comes a day after his "successful" meeting with Chinese President Xi Jinping on Monday, where the two leaders discussed border issues and bilateral trade. Modi was scheduled to meet Putin on Monday as well, but with the latter in Brasilia for commitments, the meeting was rescheduled. The Indian PM leaves for Brasilia for the second day of the Summit on Wednesday.
While Modi's meet with Jinping spilled over an hour to about 80 minutes, his meet with the Russian leader went up to 40 minutes on the sidelines of the BRICS Summit, after the five nations had announced a Development Bank and a Reserve Fund on Tuesday.