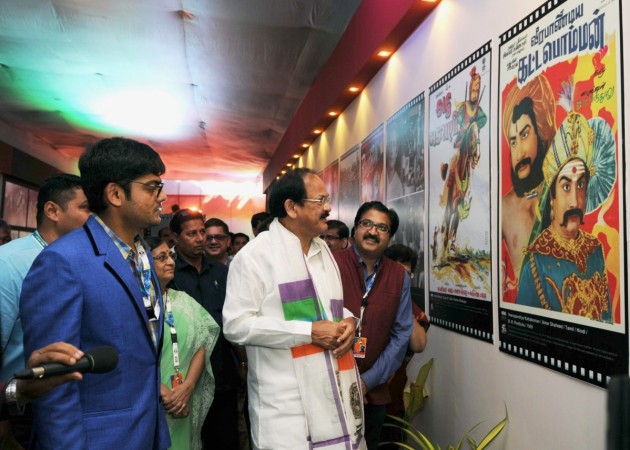 Venkaiah Naidu is endowed with the gift of the gab, though often his comments are weird. Take, for instance, his latest acronym -- MODI -- in the context of the prime minister's demonetisation decision.
"MODI means Making of Developed India. Join the campaign, cleanse the public life, clean ourselves, set good example, create role models and become inspiration to other people," the 67-year-old BJP leader, who holds the urban development and information and broadcasting portfolios, said at the 47th edition of International Film Festival of India.
"I am not talking about politics – there is a campaign for MODI, not (PM) Modi," he added, just in case someone got him wrong, according to a report in the Indian Express.
An ardent Modi bhakt, to use a social media phrase for describing staunch admirers of the prime minister, Naidu has compared the "surgical strike" against black money to the government's Swachh Bharat Mission, or Clean India Mission.
"The Prime Minister wants to have a real Swachh Bharat – along with 'than' (body)and 'man' (heart) – even 'dhan' (money) also has to be white," Naidu said at the IFFI event.
On May 2, 2009, during the Lok Sabha elections, Naidu, Arun Shourie and leaders of the party's Tamil Nadu unit had gathered under the aegis of Friends of BJP. Needless to say, Naidu hogged the limelight with his laughable remarks. To drive home the point that Ram is omnipresent, he drew an analogy that nobody else could have thought of even in his wildest dream.
"It's not only the BJP that is talking about Rama. Look at politicians in other parties, they too have the word 'Rama" prominently in their names. Like Ram Vilas Paswan, Sitaram Yechury and so on. Even in drama, there is Rama," he said, much to the amusement of the 50-odd people gathered at the hall on a hot summer day.
No doubt, films have contributed to the patriotic cause. A case in point 'Veer Pandya Katta bommana'. Rightly showcased in #NFHM exhibition pic.twitter.com/XE0xKMaPUt

— M Venkaiah Naidu (@MVenkaiahNaidu) November 21, 2016
Sanskrit film Ishti directed by G Prabha is the opening film of Indian Panorama.. Congratulations to the cast & crew #IFFI2016 pic.twitter.com/6rdO0VF6gu

— M Venkaiah Naidu (@MVenkaiahNaidu) November 21, 2016
Met South Korean delegation, the focus country this year at #IFFI2016. Had fruitful discussion on coproduction agreement & attendant issues pic.twitter.com/0ZOlfJ7EUY

— M Venkaiah Naidu (@MVenkaiahNaidu) November 21, 2016