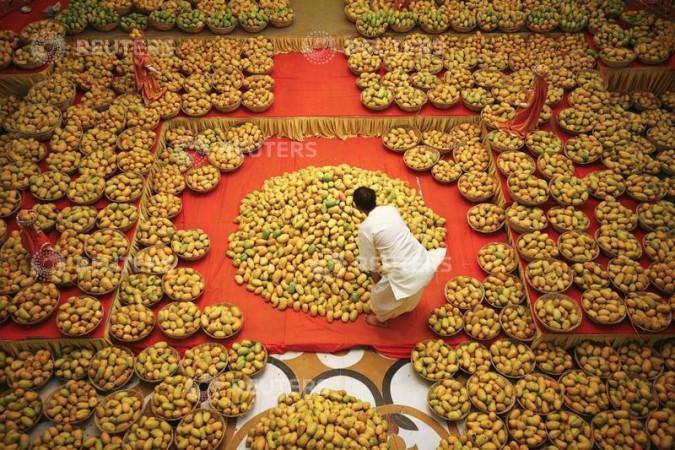 India's noted mango cultivator Haji Kalimullah has named a new variety of the king of fruits as "Modi mango" and wants to present it to Prime Minister Narendra Modi.
"I had kept the first fruits of the Modi mango variety solely for the Prime Minister but I do not have a medium to send them to him," Kalimullah said, according to PTI.
Kalimullah grows several varieties of mango in his orchards in the mango belt of Malihabad, located on the outskirts of Lucknow. The new variety of the fruit is a cross-breed of Kolkata's Husn-e-Aara and Lucknow's Dussehri.
The Padma Shri award winner said that so far everyone has liked the new variety of mango and believes that Modi will also like it. Kalimullah said he will be honoured if the PM tastes the "Modi mango".
"It is my wish that I can offer him the king of fruits myself and I am confident that he will love it. All those who have tasted it, be it officials or the connoisseur of the fruit, have found it very delicious and delectable," he said.
Malihabad: Winner of Padma Shri Haji Kalimullah Khan dedicates a new variety of mango "NaMo Aam" to Narendra Modi pic.twitter.com/gFxG7qnrCU

— ANI (@ANI_news) May 23, 2014
Besides offering the "Modi mango", Kalimullah also wishes to present its saplings to the PM. He has kept aside five saplings of the variety, which he wants Modi to plant in is home state of Gujarat. "I want the variety to grow in Gujarat," he said.
He further said that impressed by the PM's gesture of inviting heads of SAARC nations to his oath-taking ceremony in 2014, he decided to name the mango after him. Like "Modi mango", he has named several other varieties of mangoes developed by him after other personalities, including Aishwarya, Sonia, Sachin, Akhilesh.
It is Kalimullah's talent in grafting and cultivating varieties of mangoes that earned him the honour of Padma Shri and the title of "Udyan Pandit" by the Uttar Pradesh government.
Kalimullah is famous for growing 300 different varieties of mangoes in a single tree. Asl-ul Muqarrar, the bright red Husn-e Ara, Sharbati Bagrain, Pukhraj, Walajah Pasand, Khas-ul Khas, Makkhan, Shyam Sunder, Prince, and Himsagar are among hundreds of his creations.
Carrying forward his predecessor's 150-year-old business, Kalimullah started mango cultivation in 1957 on the 14 acre orchard, where rarest varieties of mangoes are grown. Kalimullah has been bestowed with the name "Mango Man" or "Aam Aadmi" and has also been given the title of "Father of Mango Grafting".