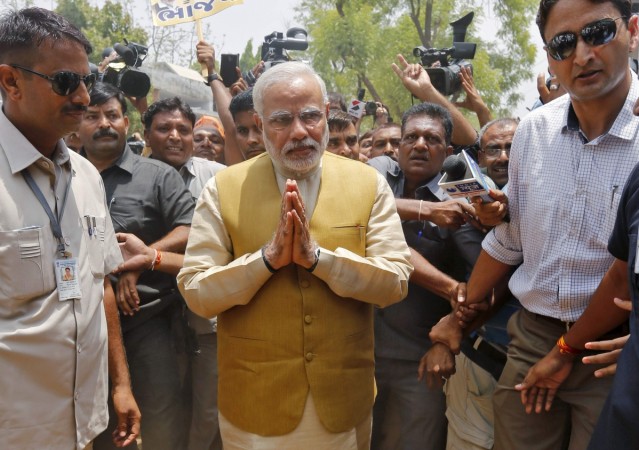 Bharatiya Janata Party's (BJP) prime minister designate Narendra Modi-led 15-member National Democratic Alliance (NDA) met President Pranab Mukherjee on Tuesday, 20 May, and stake claim to form the next government at the Centre.
Prior to meeting the President, BJP formally elected Modi as its parliamentary board leader in the morning, paving way to make him the next prime minister. The BJP meeting was chaired by the party president Rajnath Singh, flanked by the party patriarch LK Advani and Modi.
Advani proposed Modi's name as the party's leader and Murli Manohar Joshi, M Venkaiah Naidu and Nitin Gadkari seconded the decision.
Presiding the BJP's meeting, Singh said that Modi was visiting the Parliament's Central Hall for the first time.
In the 545-member Lok Sabha, Modi-led BJP won 282 majority seats on its own, becoming the first non-Congress single largest party to achieve the feat after India's independence.
Meanwhile, another NDA meeting will be held at around 3.15 pm, which will be attended by its partners including Telugu Desam Party (TDP). The NDA meet will be attended by its convener and TDP chief N Chandrababu Naidu and Jana Sena Party founder and actor Pawan Kalyan among others.
The Rashtriya Swayamsevak Sangh (RSS), the ideological and non-political organisation behind BJP, has not yet pronounced its stand over Advani's position in the new BJP government. There were reports that Advani will be made the Lok Sabha Speaker, but an official confirmation has not been made yet.
After an array of formal events in Delhi, Modi will return to his home state Gujarat in the evening to address a public meeting in his assembly constituency in Maninagar. Modi, who is Gujarat's Chief Minister, is understood to be favouring Anandi Ben to replace him in the CM's post. Ben is said to be a close aide of Modi and a senior colleague in his state ministry.