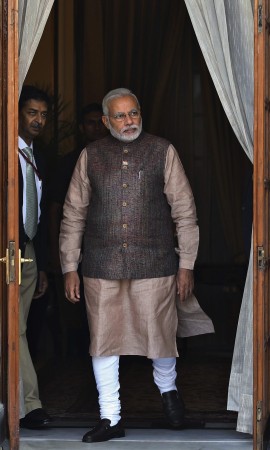 Inter-linking of rivers in India for the progress of the country's agriculture will soon become a reality as Prime Minister Narendra Modi is very keen on the ambitious national project, stated Andhra Pradesh Chief Minister N Chandrababu Naidu on Tuesday.
Inter-linking of rivers will also help to prevent floods in the country, Naidu said.
Naidu was participating as a chief guest at the 112th birth anniversary celebrations of former Union Water Resources Minister and an eminent engineer in irrigation, Kanuri Lakshmana Rao, popularly known as KL Rao, in Hyderabad.
"From Ganga to Cauvery...inter-linking of rivers is vital. The previous NDA government under Atal Bihari Vajpayee constituted a task force to look into the inter-linking of rivers but subsequently nothing happened during the 10-year UPA rule," Deccan Chronicle quoted Naidu.
KL Rao had envisioned the inter-linking of rivers in the country even decades ago, Naidu said.
The implementation of the river linking scheme would be a real tribute to KL Rao, who dreamt the project, Naidu said. Hereonwards, the state government would celebrate Rao's birth anniversary as Engineer's Day in the state, the Chief Minister stated.
Recalling Rao's services, Naidu pointed out that he had designed several irrigational projects to boost the agriculture sector. Naidu praised Rao as an ideal engineer, who achieved irrigational wonders at a time when technology was not so advanced.
The Chief Minister vowed to complete the multi-purpose Polavaram irrigational project in the state. He also promised to rehabilitate the displaced tribals under the project.
The Polavaram dam would become a boon to the state and the government's aim is to make AP a "drought-proof" state, Naidu said.
State irrigation minister Devineni Umamaheswara Rao and former agriculture minister Vadde Sobhanadreeswara Rao were also among those who attended the programme.
Meanwhile, Union government's National Water Development Authority has already identified 14 links under Himalayan Component and 16 links under Peninsular Rivers Component, for the river linking project.
Out of these, feasibility reports of 14 links under Peninsular Component and two links (Indian portion) under Himalayan Component have been prepared.
Five Peninsular links - Ken-Betwa, Parbati-Kalisindh-Chambal, Damanganga-Pinjal, Par-Tapi-Narmada and Godavari (Polavaram)-Krishna, around Vijayawada, have been identified as priority links for the preparation of Detailed Project Reports (DPRs), Union Minister of State for Water Resources said in Rajya Sabha on Monday.
The government is pursuing the inter-linking of the rivers programme in a consultative manner with the states concerned and in accordance with the directions of the Supreme Court, he added.