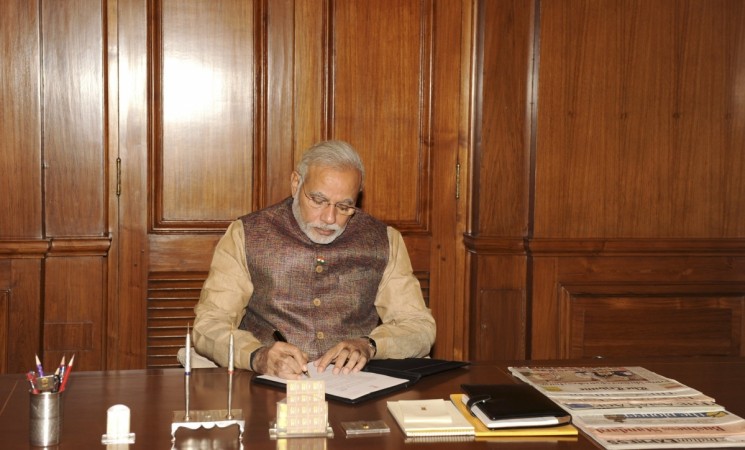 Prime Minister Narendra Modi seemed bent on scrubbing off the UPA government's legacy, and scrapped four cabinet committees on Tuesday, including the much touted one on the Unique Identification Authority (UIDAI).
The UID was said to be one of the most ambitious projects of the United Progressive Alliance government introduced in its second term, through which it sought to give unique identity cards (Aadhar cards) to all Indian citizens based on their biometric data. The idea was structured by former Infosys leader Nandan Nilekani, who went on to chair the project in 2009.
The other committees that Modi did away with on Tuesday were the Cabinet Committee on Prices, the Cabinet Committee on World Trade Organisation Matters and the Cabinet Committee on Management of Natural Calamities, PTI reported.
The Cabinet Committee on UIDAI was constituted in October 2009, as per the official UIDAI website, and was headed by the Prime Minister. The UIDAI had issued 58.3 crore Aadhar numbers till February, according to The Economic Times, which also cited that about ₹2,000 crore of subsidies had been disbursed through the scheme to 6.6 crore consumers till the end of 2013.
As per an official statement, major decisions on UIDAI had already been taken by the erstwhile cabinet committee, and other issues would be looked into by the Cabinet Committee on Economic Affairs, Hindustan Times reported.
While Modi scrapped the four committees, he boosted another one by putting additional responsibilities on the Cabinet Committee on Economic Affairs (CCEA), which presides over matters of approving foreign direct investment and clearing big-budget projects.
The CCEA is also slated to handle the functions of the cabinet committees on Prices and World Trade Organisation Matters, while the Committee under the Cabinet Secretary will take over functions of the Cabinet Committee on Management of Natural Calamities in case such incidents occur.
Modi also reconstituted several cabinet committees, including those dealing with Security, Political Affairs, Economic Affairs and Parliamentary Affairs as well as the Appointments Committee of the Cabinet (ACC), reported the Indian Express.
The Prime Minister has been on a spree of clearing out redundant offices in the government to expedite the process of decision-making. On 31 May, Modi dismantled the UPA regime's 21 Group of Ministers (GOM) and nine Empowered Group of Ministers The tradition of GOMs, however, was started by the NDA government itself, under Atal Bihari Vajpayee's rule.
Ever since coming to power, Modi had popularized his agenda of 'minimum government, maximum governance', a statement that was also emphasized by President Pranab Mukherjee during the Parliamentary address on Monday.