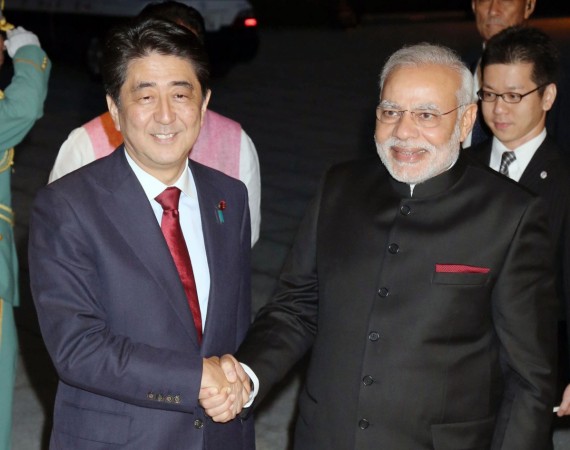 Prime Minister Narendra Modi, who is in Japan for a five-day visit, made a compelling address to Japanese business leaders, and announced a special team in his office to facilitate deals with the country.
Accompanied by Indian businessmen whom he referred to as "heavyweights", Modi reached out to business leaders of Japan by complimenting them on their skills and efficiency and promising to give them speedy clearance and response as he had done in Gujarat as the chief minister.
"It is the government's responsibility to provide the right environment to businessmen. Good governance is my government's focus," Modi said at an event in Tokyo on the third day of his trip, broadcasted on news channels. "Skill development will help India meet global workforce requirement. But this skill development will be styled as per Japan's focus on efficiency, discipline."
Modi announced a special management team in the Prime Minister's Office called 'Japan Plus' to facilitate with Japan on its business initiatives in investing in India.
He also said that the team that looks into industrial affairs will include Japanese representatives nominated by the Japanese government.
The India-Japan bonhomie promises to get even stronger on Monday, as Japan is expected to announce to double its direct investment in India in five years, according to Reuters.
Japan could double its investment from $2 billion last year, Reuters cited the Nikkei business daily.
Modi will have crucial talks with Japanese Prime Minister Shinzo Abe on Monday, and the two leaders are likely to clinch important civilian nuclear deals and defence deals.
Here are some of Modi's announcements, in tweets -
In the coming days you'll get the same speed and response that you have experienced in Gujarat in the past: PM @narendramodi

— PMO India (@PMOIndia) September 1, 2014
Under @PMOIndia a special team will be set up dedicated to facilitate Japanese investments in India -PM @narendramodi — Syed Akbaruddin (@MEAIndia) September 1, 2014