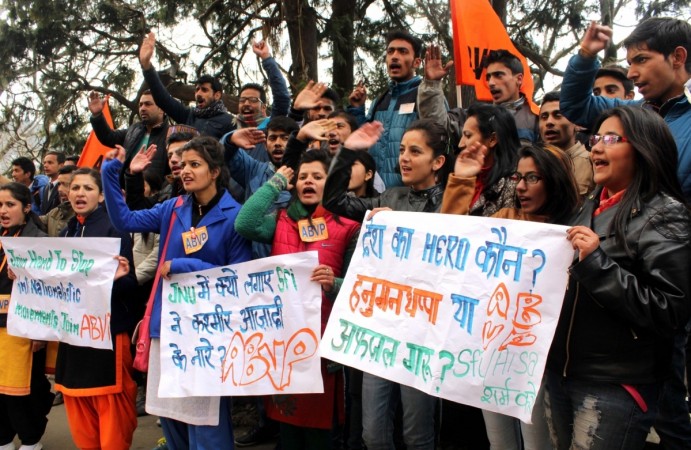 UPDATE 13:32 IST: The president of the Jawaharlal Nehru University students' union has reportedly been arrested on Friday.
Original story:
The Modi government has issued a strong warning amidst the ongoing row on some Jawaharlal Nehru University (JNU) students raising "anti-India" slogans to protest the hanging of 2001 Parliament attack convict Afzal Guru. An event had been organised on JNU campus on Tuesday to mark the death anniversary of Afzal Guru.
Home Minister Rajnath Singh said on Friday that the government would not tolerate any anti-national activities in the country. On Thursday, the police had filed a case of sedition and criminal conspiracy against "unknown persons."
"If anyone shouts anti-India slogan and challenges nation's sovereignty and integrity while living in India, they will not be tolerated or spared," Rajnath Singh said on his official Twitter account.
Calling the incident in JNU "extremely unfortunate," Singh said had given "necessary instructions" to the Delhi police commissioner "to take strong action against the anti-India elements."
Human Resource Development minister Smriti Irani also condemned the JNU incident.
"Nation can never tolerate any insult to Mother India," she told reporters on Friday.
The institute had ordered an inquiry into the event, while the Akhil Bharatiya Vidyarthi Parishad (ABVP) and a Bharatiya Janata Party MP had filed police complaints. JNU authorities were reported saying that they had not given permission for the Feb. 9 event.
According to Mail Today, an event to commemorate Afzal Guru was held at the Press Club of India in Delhi on Wednesday, though the venue authorities said they were not aware of the nature of the event.
Afzal Guru, who hailed from Kashmir, was hanged to death on Feb. 9, 2013 at Delhi's Tihar jail.