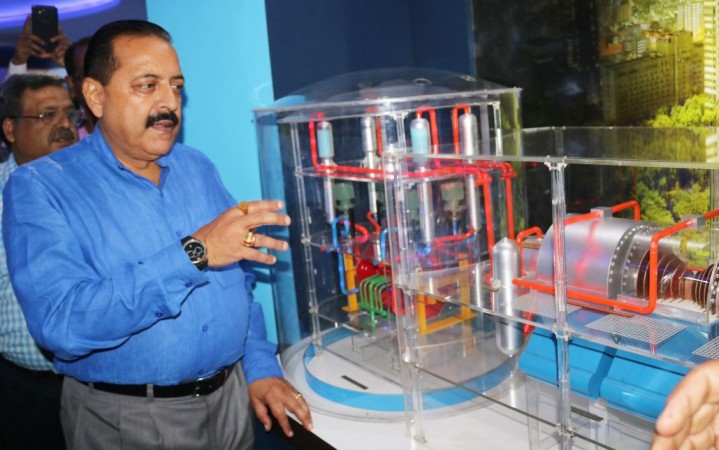 The current government of PM Narendra Modi has made "rapid strides" to advance India's nuclear programme, claimed Dr Jitendra Singh, Minister of State for Development of North Eastern Region on Sunday during the visit to the newly set up 'Hall of Nuclear Power' up at Pragati Maidan, New Delhi.
"With direct and personal patronage from the Prime Minister, India is now among the frontline nations in its nuclear programme. In the years to come, nuclear energy will be a major source of power for India's growing needs," News 18 quoted him as saying.
He also said that the current government can "clearly take the credit" for bringing the nuclear programme to north India.
In the past two years, a nuclear plant came up at Gorakhpur village in Haryana, this is enough proof of the government's push towards nuclear energy. Moreover, it is also deliberating more nuclear installations in north India, especially in states like Punjab and Uttarakhand.
With most nuclear energy-related activities limited to either the western or southern parts of India, there was a need to set up 'Hall of Nuclear Power' in New Delhi. Moreover it was inspired by the realisation that the Department of Atomic Energy did not have its headquarters in the capital.
The minister noted that not much is known about the department in north India. He also directed officers to send circulars so that visit to 'Hall of Nuclear Power' is made "mandatory" during educational and other tours in the capital city.
He also touched upon India's possible NSG (Nuclear Suppliers Group) membership saying that the country was being accepted by the world nations.
Growing economies like India need energy to propel growth in different segments and with PM Modi's insistence on clean energy, the push towards more setting up of more nuclear installations is but natural.