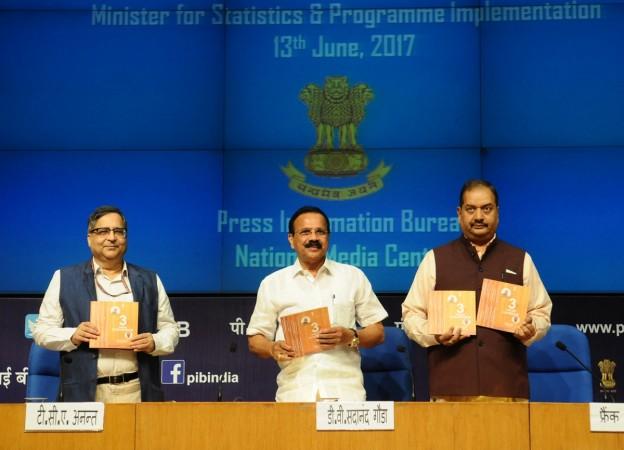 A month after revising the base year for measuring factory output (IIP) and wholesale price inflation, the Narendra Modi government on Tuesday said that it will revise the base year for calculating GDP also.
"My ministry has planned to revise the base year of National Accounts Statistics to 2017-18. The preparatory work for this huge exercise has been started," DV Sadananda Gowda, Union Minister for Statistics and Programme Implementation, was quoted as saying by news agency PTI.
He was speaking to the media in New Delhi on Tuesday about the ministry's achievements in the last three years.
The earlier revision for calculating India's gross domestic product (GDP) was done in 2015 when the government changed the base year to 2011-12 from 2004-05.
Read: India loses world's fastest-growing economy tag to China; Q4 GDP growth comes at 6.1%
India's chief statistician T C A Anant explained it at the press conference. "Once the results of employment survey and household consumer expenditure survey come out then base year can be changed. Those are critical inputs into the base revision," he said.
Another significant announcement was the one on employment survey. "We expect to release results of labour force (employment) survey from December 2018 for which the work was started in April," Anant said.
Quarterly fact sheet economy
In what would apparently be a first in India, the government also plans to come out with a quarterly update on the economy, much like corporate results. "We are exploring 'development of a fact sheet on Indian economy'. This aims at providing a national fact sheet, wherein various sources in ministries will provide quarterly data on 100 important indicators of Indian economy through a dynamic user—friendly dashboard. Such a national fact—sheet will facilitate decision making at the senior levels of the government," Sadananda Gowda said.
The revision in the base year for IIP was announced on May 12 to "align it with the base year of other macroeconomic indicators like the GDP and wholesale price inflation," the government had said.