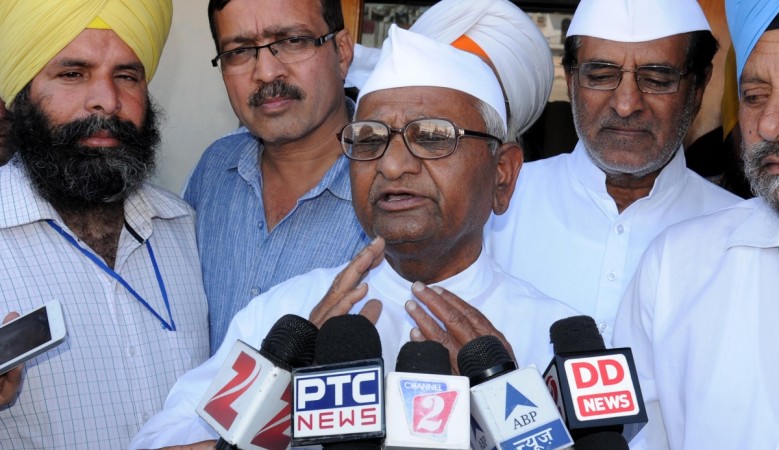 Anti-corruption crusader Anna Hazare on Friday reminded Prime Minister Narendra Modi of "forgotten" election promises, saying the NDA government is no different from the previous UPA regime, according to reports.
Recalling Modi's promise to make India corruption-free if he came to power, Hazare said it is crucial to implement the Lokpal and Lokayukta Bills in a bid keep corruption under control to an extent, IANS reported.
"You are neither speaking about the Lokpal and Lokayukta laws nor implementing them. We had hopes that you would address them in your 'Mann Ki Baat', especially since you had assured that you would tackle corruption," Hazare wrote in a three-page address to Modi.
"...Even now corruption has not decreased, no work can be done without paying bribes. Even inflation has not been curbed. In the matter of corruption, there is no difference between the UPA and the NDA governments," he added.
He added that though Modi had pledged to maintain the sanctity of Parliament like a temple, the sessions are lost in fights and arguments. "Crores of rupees of public money is being wasted," he said.
Hazare pointed out that Modi had vowed to recover black money stashed overseas "within 100 days" of coming to power, and that all Indians would get Rs 15 lakh each in their bank accounts.
"But that has not happened till now. Forget Rs 15 lakh, people have not got even Rs 15," IANS quoted Hazare as saying.
The social activist said former prime ministers such as PV Narasimha Rao and AB Vajpayee used to call him and speak about issues, and that even his predecessor Manmohan Singh, whom he had frequently criticised, used to reply to his letters.
"Perhaps you get angry by my letters and they end up in the dustbin. I am just an ordinary citizen who is powerless against the government. At best I can launch an agitation," said Hazare from his native Ralegan Siddhi village in Maharashtra's Ahmednagar district.