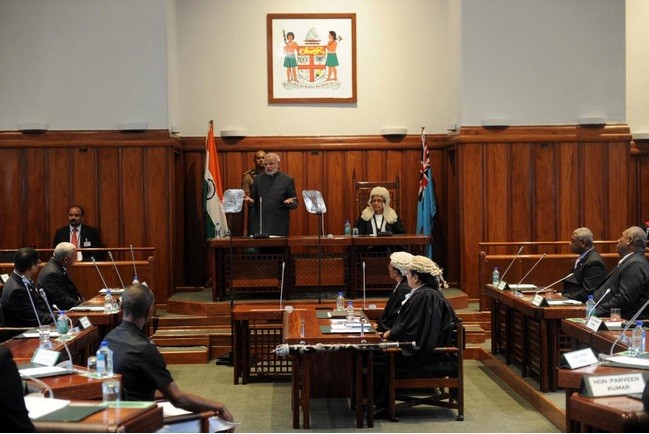 Prime Minister Narendra Modi reached Fiji on Wednesday for the last lap of his three-nation visit, after spending four days in Australia and visiting Myanmar earlier.
Modi also became the first Indian prime minister to visit Fiji in 33 years.
"India is prepared to become a partner in strengthening and modernising Fiji, Prime Minister Narendra Modi said on Wednesday as he addressed the Fiji parliament.
"As Fiji adjust to the changing global markets, India is prepared to be your partner in making your existing industries stronger and finding new opportunities for the youth," he said.
He also said that Fiji could serve as a hub for stronger Indian engagement with the Pacific Islands and acknowledged that Indo-Fiji relations have "at times been adrift; and that our cooperation should be much stronger than it is".
Modi announced visa on arrivals for Fijians, much like he announced for Australians two days ago.
In my meeting with Prime Minister Bainimarama, we discussed ways to expand the partnership between India & Fiji. pic.twitter.com/Almt8I4suO

— Narendra Modi (@narendramodi) November 19, 2014
He added that for countries like India and Fiji, village and small and medium size industries were the source of enterprise and employment.
"I am pleased to announce a grant of $5 million to strengthen and modernise Fiji's village, small and medium industries."
He also announced a line of credit worth $17 million for Fiji.
"Agriculture supports a majority of the population in India and Fiji. As the largest producer of milk, India can help your dairy industry which can also contribute to your exports," Modi said.
The Prime Minister said that India was willing to build a digital Fiji and prepare the youth to integrate Fiji with the global IT network.
"In this digital age, every nation can be a part of the global information industry. It is an industry that offers a great path to prosperity and it has the right carbon footprint.
"We are pleased to set up a centre for excellence in information and technology here in Fiji."
(With inputs from IANS)