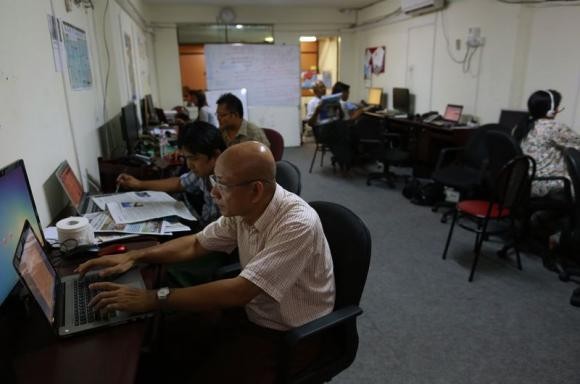 Prime Minister Narendra Modi's decision not to take journalists along on trips abroad has bothered many journalists in Delhi. However, some are in favour of it termiing it a good move for Indian journalism, which has mostly been dependent on 'easy access' to the corridors of power.
Journalist Shivam Vij stated on his website that Delhi-based journalists have been upset with the lack of access to the government. However, he stressed that those who were aware of the Gujarat politics under Modi's rule and his control over the state media are not surprised.
Modi has not only denied media from travelling abroad on official trips but has also barred in-depth interactions between ministers and journalists.
"He simply doesn't trust the media very much," BBC quoted an unnamed senior journalist.
On his trips to Bhutan and Brazil, Modi reportedly took the representatives of only Doordarshan, All India Radio and select news agencies along with him, and abandoned the tradition of the PM taking around 30 journalists along. The same is reportedly expected during his US visit in September.
Weighing the repercussions of Modi's decision to keep the media away from the government, Vij said that this would ultimately benefit the media and provide journalists an opportunity to work with freedom, and without governmental influence.
The Delhi journalists, who are reportedly used to the habit of getting the ideas served to them blatantly, would not remain dependent on spoonfeeding now. The practice has effectively hampered the journalists' critical outlook on governance matters.
The Delhi media "often don't look at the big picture, don't take the long view, don't see the obvious, forget the past, don't study the boring reports, substitute access journalism for ground reporting [and] believe the official word," Vij pointed out.
Veteran journalist Rahul Bedi, who mostly writes on defence, echoes similar view regarding the present condition of the Indian media, and reportedly said that the previous government never objected the media's easy access to politicians as they had inner disputes within the government.
"Somewhere, it is the journalist - so used to spoon feeding - who is the biggest victim. He no longer has the access. And lost in this let-us-play-safe game is trust. Bureaucrats and politicians are not trusting reporters anymore," Bedi said.
Modi's distancing of the media is being condemned by some but there are others who think the farther the media from the political influence, the better it would flourish. While the political power game in the Indian media might end with this norm, journalism is still not free from the corporate clutches yet as is seen in the recent takeover of a major media house by the Reliance Group.