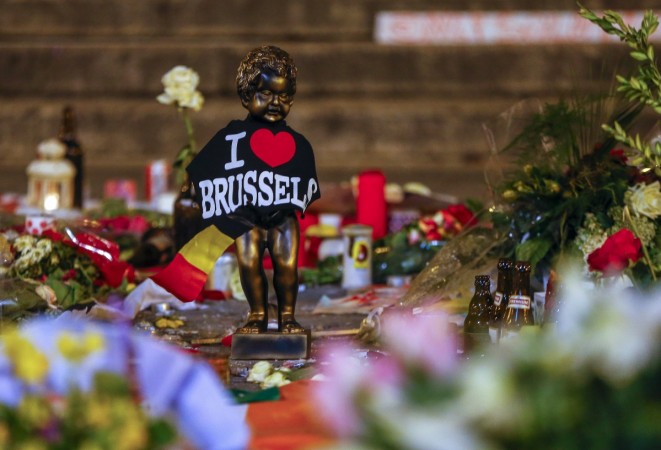 Indian Prime Minister Narendra Modi will leave Tuesday night for his first official trip to Belgium and will attend the India-EU summit in Brussels in the shadow of the recent terror attacks that hit the European Union headquarters. Indian officials said the Brussels attacks, which also killed an Indian, will be the "starting point of the talks."
Modi's Brussels visit will come just two days after Belgian authorities confirmed the death of Indian national Raghavendran Ganesh in the suicide bombing on a metro at Maelbeek station that killed over 20 people March 22. Modi took to Twitter Tuesday to condole Ganesh's death — "A young life, full of hope & promise cut short by mindless violence... condolences to family of Raghavendran, who lost his life in Brussels."
Over 35 people were killed when suicide bombers from the Islamic State group struck the Zaventem airport and the Maelbeek metro station in Brussels last week.
"No words are enough to salute the resilience and spirit of the people of Belgium. We stand shoulder to shoulder with them in the wake of the horrific attacks in Brussels and share the grief of those who lost their loved ones," Modi said in a statement Tuesday, ahead of his visit.
The Brussels attacks are likely to be a significant focus in talks between India and Belgium, especially on the issue of counter-terrorism.
"The attacks in Brussels, of course, will be a very important part of the discussions. In fact, it will be the starting point of the talks," Joint Secretary (Europe) Nandini Singla said Monday in a media briefing by the Indian ministry of external affairs.
Modi will join a bilateral meeting with Belgian Prime Minister Charles Michel Wednesday and will also meet with some Belgian and European parliament members. He will also meet with the diamond trading community of Antwerp, and will then address a 5,000 strong crowd of members from the Indian diaspora. There are about 20,000 Indians living in Belgium.
"Within the E.U., Belgium is India's 2nd largest trading partner. My meeting with the Prime Minister aims to expand trade, investment and high technology partnership with this important E.U. member," Modi said.
Modi will be in Belgium for a day before leaving for the United States where he will attend the 4th Nuclear Security Summit (NSS) in Washington on March 31 and April 1. On his return trip home, Modi will stop at Saudi Arabia April 2 for a two-day visit at the invitation of Saudi King Salman Bin Abdulaziz Al-Saud.
Where to watch LIVE:
The Indian PM's three-nation tour can be followed through his personal website, while the live streaming of events will be available on the official YouTube channel of the Prime Minister's Office.
You can also follow updates on Modi's Twitter account.