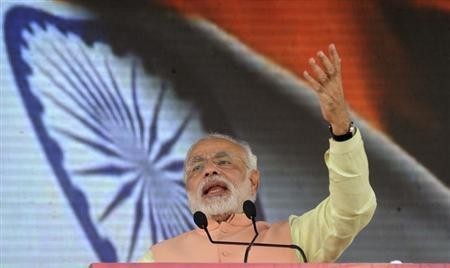 Bharatiya Janata Party's (BJP) prime ministerial candidate Narendra Modi attacked the United Progressive Alliance (UPA) government, during his one-hour speech at the Palace Grounds in Bangalore on Sunday, and insisted the coalition has remained non-performing over the years.
"Congress has been in power for many decades. But they do not have anything to show as their achievement. Factories have been shut, jobs are not being created, and there is no power generation," said Modi, addressing a gathering of over three lakh people.
Modi visited Karnataka for the first time since BJP declared him as the party's prime ministerial candidate. It is also his second biggest rally, after the "Hoonkar" rally in Patna.
The Chief Minister of Gujarat went on to accuse the ruling party for the growing current account deficit, reduction in software exports and contrasted the situation with former BJP Prime Minister Atal Bihari Vajpayee's reign, which he described as progressive.
Modi also charged the UPA government for neglecting areas of Information Technology, Science and Technology, while promoting meat exports. He also said that the anti-slaughter bill was being ignored on purpose.
He also alleged the government of curbing the democratic freedom of celebrities and social media. Congress recently sent out a circular to the electronic media, cautioning them to watch the content that was being telecast. "Congress is trying to suppress the freedom of speech," the 63-year-old stressed.
Modi emerged as BJP's prime ministerial candidate even with BJP leader L K Advani opposing his candidature. Advani had to reconcile to his leadership.
Modi envisioned governance with a vision that late freedom fighter Sardar Vallabh Bhai Patel had for India after independence. "Give us eight years and we will show you progress," he told the gathering.
He carefully avoided raising religious issues, including the Godhra massacre of 2002, where a train was burnt and over 58 people died in the incident causing riots in Gujarat. He delved mainly on developmental issues.
The state BJP leaders presented Modi with a cheque of Rs 35 lakh, collected as donation from the party workers.