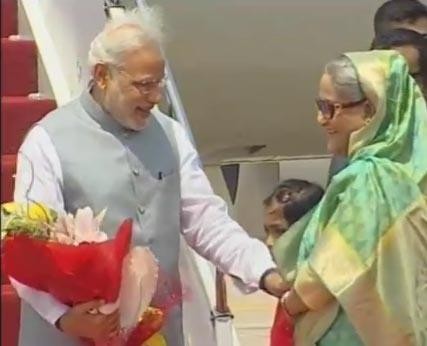 Prime Minister Narendra Modi saw the ratification of the Land Boundary Agreement in Bangladesh on a historic visit on Saturday, a month after his government successfully resolved the 41-year-old dispute over the 4,000-km shared border between India and Bangladesh.
The Parliament cleared the the Land Boundary Agreement (LBA) in May, making way for the settlement of the border dispute.
Under the agreement, India will transfer 111 border enclaves to Bangladesh, while 51 enclaves will become part of India
Indian foreign secretary S Jaishankar has described Modi's Bangladesh visit as 'historic' following the conclusion of the Land Boundary Agreement.
"With the settlement of the land boundary, and the earlier settlement of our maritime boundary, we have completely settled our boundary with Bangladesh, and that is, for a neighbour, an extremely important development," he said on Friday.
SEE PHOTOS Of Modi in Bangladesh Here
LIVE: