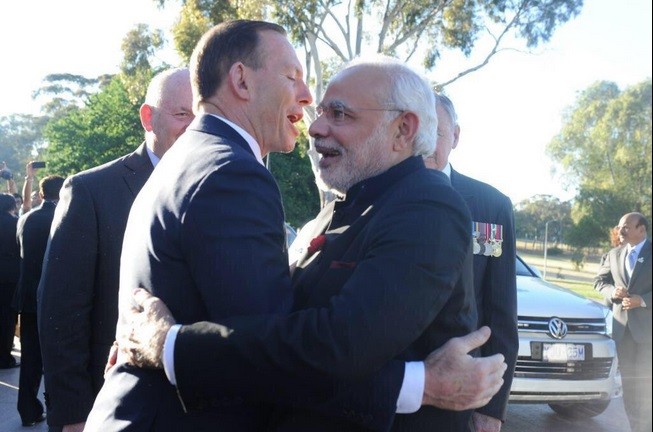 Prime Minister Narendra Modi was given a grand reception by his Australian counterpart Tony Abbott -- whom the former now refers to as a 'friend' -- at the iconic Melbourne Cricket Ground, where the two also posed with the trophy for the cricket World Cup, which will be hosted on the very ground in 2015.
Modi, who has come to build a great rapport with the Australian Prime Minister, referred to him as a 'friend' in his tweet from the ground.
"People asked me isn't it too soon to visit Australia after Tony Abbott just visited. I said I can't say no to my friend Tony," Modi said at the reception. "He was the first guest to visit since we formed the Government," he said.
The Indian PM also brought up a lot of cricket references during his trip down under, and during his address to the Australian parliament on Tuesday, he said, "We celebrate the legend of (Don) Bradman and the class of (Sachin) Tendulkar together. We are impressed by Australian speed as you are charmed by the Indian spin until of course Shane Warne came along!"
With my friend @TonyAbbottMHR at the MCG. pic.twitter.com/mprgKYPuxG

— Narendra Modi (@narendramodi) November 18, 2014
People asked me isn't it too soon to visit Australia after @TonyAbbottMHR just visited. I said I can't say no to my friend Tony: PM

— PMO India (@PMOIndia) November 18, 2014
Indian cricketing greats Sunil Gavaskar and Kapil Dev along with Australia's Stuart Clarke and Steve Waugh were present at the reception. The Indian skippers and Modi also signed a special memento for Australia.
Indian "Skippers" Memento for Australia at MCG. Signed by World Cup winning captains and PM @narendramodi. pic.twitter.com/T8LWLx7ara — Syed Akbaruddin (@MEAIndia) November 18, 2014
This is the final leg of Modi's Australia visit, with which he closed a long gap of 28 years since an Indian Prime Minister last visited the nation.
Modi had first visited Brisbane for the two-day G20 summit, and later moved to Sydney where he addressed the Indian diaspora at the Allphones Arena on Monday.
On Tuesday, he made a historic address at the Australian Parliament, the first for an Indian leader, and then visited Melbourne where he interacted with the country's top businessmen.