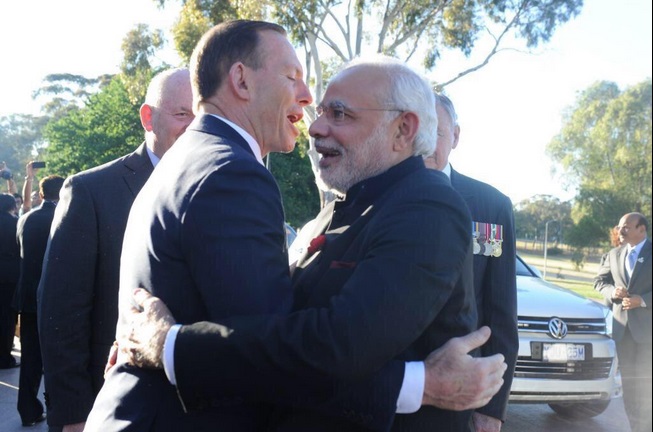 Prime Minister Narendra Modi on Tuesday made a historic address to the joint session of the Australian Parliament, and referred to the close ties with the nation as a 'natural partnership' based on shared values, democracy, and, of course, cricket.
"I see Australia as a major partner in every area of our national priority," Modi said, while also invoking cricketing greats Don Bradman and Sachin Tendulkar.
"We are impressed by Australian speed as you are charmed by Indian spin, until of course Shane Warne came along," he said with a tinge of humour that evoked laughs in the parliament.
Modi emphasised on the issue of terrorism as a shared challenge. "Terrorism has become a major threat for us all. In India, we have seen its face closely for three decades," he said, and called for deeper bilateral security cooperation.
During Modi's bilateral talks with Australian Prime Minister Tony Abbott, the two countries signed five pacts related to social security, transfer of sentenced prisoners, combating narcotics trade, tourism, and Arts and Culture.
The two leaders also jointly called for a Framework for Security Cooperation, which will be based on close interactions between defence ministers, annual defence policy talks, joint training and exercises and regular bilateral maritime exercises.
"We should collaborate more on maintaining maritime security. We should work together on the seas and collaborate in international forums. And, we should work for a universal respect for international law and global norms," the Indian PM said.
Modi also pushed for greater trade and investments between the two nations and announced that India will host a 'Make in India' show in Australia next year. "We must support the process of economic integration across the region and an open global trading system that remains integrated," he said.
Modi and Abbott have agreed to work towards a free trade pact.
"We want to go further and that's why the next priority for Australia is a comprehensive economic partnership agreement with India," Abbott said.
"By the end of next year we will have a free trade deal with what is potentially the world's largest market," the Australian PM assured.
Abbott also had a word of praise for Modi. "I have never seen any leader as rapturously received in Australia as PM Modi," he is believed to have said.