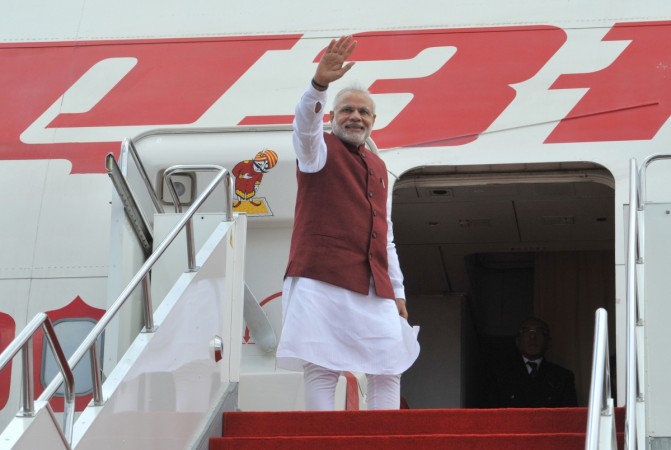 Prime Minister Narendra Modi on Wednesday discussed India's accession to Shanghai Cooperation Organisation (SCO) with Russian President Vladimir Putin as the two nations also resolved to take strategic bilateral ties forward.
The two leaders met in the Russian city of Ufa after Modi reached there for BRICS and SCO summits earlier in the day.
"I am looking forward to developing the cooperation," Putin was quoted as saying by some media reports after his meeting with Modi. The Indian prime minister thanked Putin for his gesture and the warm welcome he was accorded on his arrival.
India is all set to get the membership to SCO by 2016.
Earlier in the day, Modi arrived in Ufa on a three-day visit to attend the BRICS and SCO summits, on the sidelines of which he is also expected to meet Chinese President Xi Jinping later on Wednesday and Pakistan Prime Minister Nawaz Sharif on Friday.
At the BRICS summit, national leaders are expected to discuss economic issues and the newly set-up New Development Bank (NDB) of BRICS countries -- Brazil, Russia, India, China and South Africa.
They are likely to bring up the possibility of starting credit facility in local currency at the NDB (formerly BRICS Development Bank), headed by veteran Indian banker KV Kamath, PTI reports.
"I expect positive outcomes in economic cooperation and cultural ties among the BRICS nations... The (BRICS) Summit last year was productive and I am sure we will build on the ground covered during the last Summit," PM Modi had said before leaving for his Central Asia and Russia tour on Monday.
After this year's SCO Summit, India is expected to become a full member of the six-nation grouping of China, Russia, Kazakhstan, Kyrgyzstan, Uzbekistan and Tajikistan. The country, which presently has the status of an observer in the SCO, applied in September 2014 for full-membership.
Established in 2001, the SCO is a Eurasian political, economic and military organisation that focuses on boosting connectivity, counter- terrorism cooperation, bolstering cooperation in energy sector, enhancing trade and dealing with drug trafficking, PTI reports.
After attending the two summits in Russia, Modi will fly down to Kyrgystan and Tajikistan. Ahead of his Russia visit, the Indian Prime Minister visited Uzbekistan and Kazakhstan.