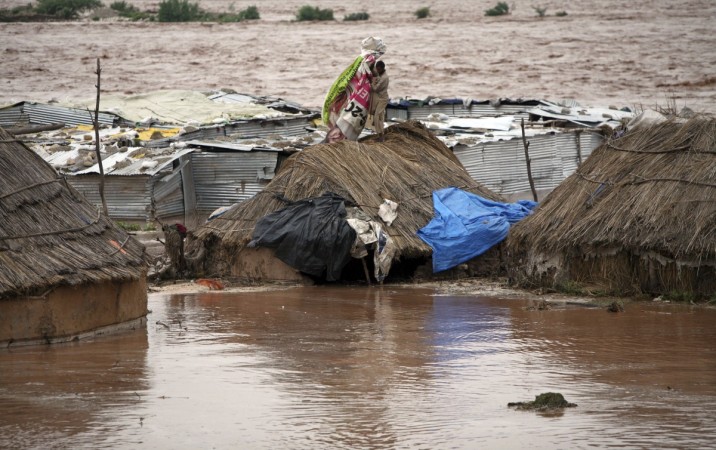 Prime Minister Narendra Modi on Sunday announced ₹1,000 crore immediate assistance to the flood-hit Jammu and Kashmir.
Reports claim that more than 138 people died in the floods. After taking an aerial survey of the flood-ravaged state, Modi announced the havoc as a national calamity.
The state has been reeling during the six-day long heavy downpour. Over 12,000 people have been rescued from inundated areas in the state by the authorities.
Modi stated that the ₹1,000 crore special aid announced is in addition to the already earmarked ₹1,100 crore to the flood-hit state.
The situation was still grim and Modi held a high-level meeting of officials, which was also attended by state Chief Minister Omar Abdullah.
"We want to tell people of the region that we will do everything possible to get them out of this situation," The Hindustan Times quoted Modi.
The rain havoc is too big and the damage has been enormous. Medical teams and essential medical supplies will be sent to the state, Modi pointed out. The PM stressed that rescue operations remain top priority and more boats from Maharashtra and Gujarat will be sent to the flood-hit regions of J&K.
Temperature in the flood-affected regions of the state has been going down. Hence, one lakh blankets will be procured to supply to the flood victims, Modi said.
The Prime Minister also extended aid to the flood-hit people of Pakistan-Occupied Kashmir.
"We are ready to help Pakistan in whatever way as flood has also affected POK," the PM stated.
According to the officials concerned in the state, 350 villages have submerged and another 2,325 villages have been badly affected in the floods.
CM Abdullah described the situation as unprecedented.
The swirling floods inundated army cantonment, secretariat and high court in Srinagar and badly affected roads and communication links in the city.
Army and Air Force personnel are carrying the rescue operations in the area.