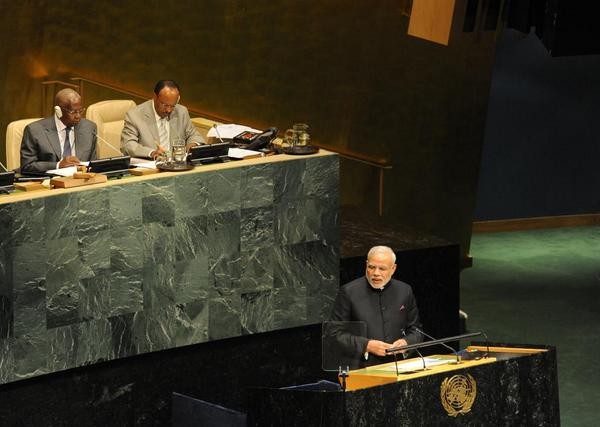 8.50 pm (IST): Modi ends 30-minute speech at the 69th United Nations General Assembly.
8.48 pm (IST): Modi pushes for reforms of the UN Security Council. "Let us fulfill the promise to reform the UN Security Council by 2015,' Modi said.
8.47 pm (IST): Modi brings up his favourite topic of 'yoga'. Calls for an International Yoga Day.
Let us work towards adopting an International Day of Yoga -@narendramodi

— Syed Akbaruddin (@MEAIndia) September 27, 2014
8.45 pm (IST): Modi speaks on global cooperation.
8.40 pm (IST): The PM highlights issues of poverty, lack of hygiene and toilets.
8.35 pm (IST): Modi calls for a Comprehensive Convention to Counter Terrorism. "India has itself seen several incidents of terrorism. The United Nations must work against terrorism," he said.
"Terrorism is taking a new shape and a new name. No country, big or small, is free from its threat," he said.
8.30 pm (IST): Modi goes full-throttle on the issue of terrorism, says several nations are harbouring terrorists. This could be a discreet reference to Pakistan and its ISI agency, often known to engage with most-wanted terrorists.
"If we have to fight terrorism, we need everyone's support," he said.
8.25 pm (IST): Modi speaks about relations with Pakistan. "India stands for universal peace and prosperity. India expects a peaceful and stable global environment. Hence, right from Day 1, my government has reached out to other nations. We have also reached out to Pakistan. I want to strengthen relations with Pakistan in an environment of peace, but Pakistan also has a responsibility to make the right environment and come forward for talks with India"
Am prepared to engage in serious bilateral dialogue with Pakistan in a peaceful atmosphere, without the shadow of terrorism-@narendramodi

— Syed Akbaruddin (@MEAIndia) September 27, 2014
Modi brings up the Kashmir topic. "The Indian government has taken care of people in Kashmir during the floods and also offered help to Pakistan," Modi said.
8.18 pm (IST): Modi begins speech at UNGA in Hindi. "I know the expectations of the 1.2 billion people of India, who make one-sixth of the world population."
"Indian Culture believes in brotherhood. We have to work together. Today, 193 national flags are hoisted at the UN headquarters. We have addressed many challenged together."
8.10 pm (IS): The Indian PM has reportedly made references to his Pakistani counterpart's comments about Kashmir at the UNGA on Friday. He is also said to have discussed the issue of terrorism.
7:45 pm (IST): Modi arrives at the United Nations premises in New York and is currently in a meeting with UN Secretary General Ban Ki-moon.
Prime Minister Narendra Modi is all set to make his first address at the United Nations General Assembly in New York on Saturday, at 8 pm IST (10.30 am local time).
Modi's UNGA debut comes in the shadow of Pakistani Prime Minister Nawaz Sharif's caustic speech on Friday, in which he brought up the Kashmir issue and the cancellation of secretary-level talks between the two nations.
Pakistan Puts Kashmir on the Table at United Nations; Will Modi Touch it?
It remains to be seen if Modi will retaliate to the Pakistani rant. Government officials believe the Prime Minister may ignore Sharif entirely to make a 'forward-looking' speech instead.
Prime Minister Narendra Modi will be meeting the United Nations Secretary General Ban Ki-moon at the UN headquarters in New York. He is also expected to pitch India's demand for a permanent seat in the United Nations Security Council.
Earlier in the day, Modi visited the 9/11 Memorial.