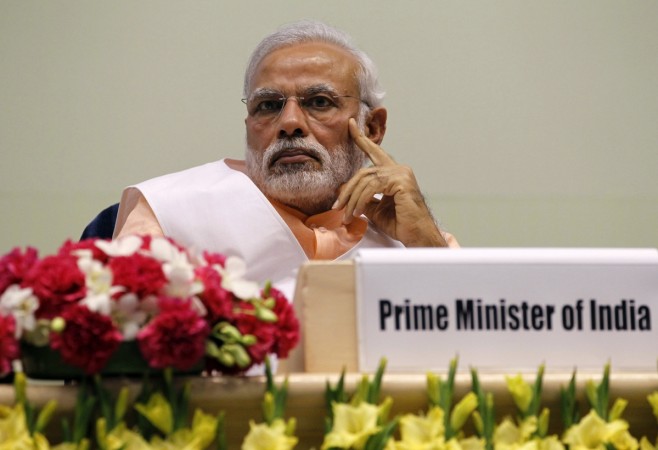 The Congress on Saturday accused Prime Minister Naremdra Modi for again targeting opposition parties on foreign soil, terming it disgraceful and distasteful.
"Prime minister continued to be in election rally mode using the opportunity to mount a disgraceful and distasteful attack on the opposition and beating his own drum," Congress spokesperson Randeep Surjewala said in a statement.
"Verbal character assassination of India's achievements of last 67 years on foreign soil by Modi is unacceptable and a new low in practising despicable politics," he added.
Surjewala said that Modi would be well-advised to take off the adversarial "RSS pracharak hat" and truly wear the "hat of India's composite culture" as prime minister
Congress had earlier slammed Modi for his remarks concerning the UPA during his three-nation visit to France, Germany and Canada.
In his address to the Indian diaspora at the Expo grounds at Shanghai in China on Saturday, Modi referred to results of Lok Sabha elections that were declared on May 16 last year and related it to a Hindi song.
"The voice being heard from various parts of the country May 16 last year was 'Dukh bhare din beete re Bhaiya, dukh bhare din beete re Bhaiya (Day of pain are gone)'," he said.
Modi had led his Bharatiya Janata Party to its first full majority in the Lok Sabha elections last year.
He also referred to criticism by Congress about his "frequent" foreign visits.
"For the last one year, I have not taken even one day's leave. I have worked day and night. Did I go on any vacation? Do I take rest? Am I not implementing my promise," he asked.
"People used to ask who is Modi, what does he know about foreign policy? Accusations were correct but apprehensions were wrong," he said, adding that "Indians can hold their heads high" due to the performance of his government in the last one year.