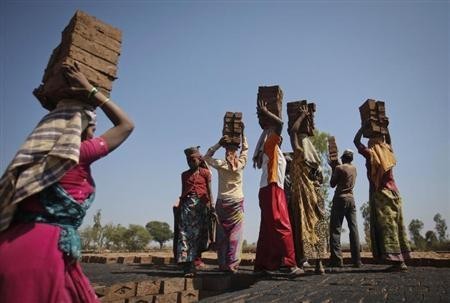 Almost half of estimated 30 million modern slaves in the world reside in India, according to the first Global Salvery Index released on Thursday.
However, out of the 162 countries surveyed by Australia-based Walk Free organisation, the west-African nation of Mauritania has the highest prevalence of modern slavery with nearly four percent of its population enslaved.
According to the Index, India is followed by China, Pakistan, Nigeria, Ethiopia, Russia, Thailand, Democratic Republic of the Congo, Myanmar and Bangladesh in the list of top 10 countries with highest absolute numbers in modern slavery.
Some 13.9 million people in India are enslaved by human trafficking, forced manual labour or are victims of debt bondage.
"India exhibits the full spectrum of different forms of modern slavery, from severe forms of inter-generational bonded labour across various industries to the worst forms of child labour, commercial sexual exploitation, and forced and servile marriage," the report said.
It also revealed that corruption within the government, poverty, negligence by national political leaders to implement laws against slavery were chief factors contributing to the rise in slavery in the country.
"Corruption or non-performance of safety nets (such as the National Employment Guarantee, food rations, primary health care and pensions) and practices of land grabbing and asset domination by high caste groups (or for commercial development) leaves people without protections."
According to the report, the UPA-led government 'has not fulfilled its duty to protect its citizens'. India is among the few countries in the world that failed to ratify one of the key conventions relevant to modern slavery - Worst Forms of Child Labour.
"These so called 'worst forms' of child labour covered by this Convention, occurs on a significant scale in India and are deeply connected to the modern slavery issue," the report added.
Even as bonded labour has been criminalised in the country under the Bonded Labour System (Abolition) Act 1976 (BLSA), "in 2013, bonded labour continues to be prevalent and NGOs report having insufficient resources to empower communities to shed the burden of forced labour".
The report also blamed a sluggish judicial system and 'victims' of the modern slavery have 'little or no confidence in its capacity to deliver a result'.
The Index covered 162 countries of the world and countries with lowest prevalence of modern slaves are Iceland, Ireland, United Kingdom, New Zealand, Switzerland, Sweden, Norway, Luxembourg, Finland and Denmark.