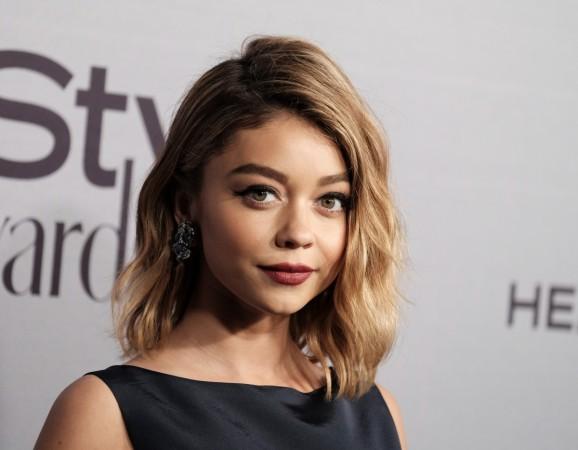 Modern Family actress Sarah Hyland is the new victim of nude photos leak scandal. The TV star's explicit X-rated photos and video have been leaked on the notorious website Celeb Jihad.
The actress joins the shockingly long list of celebrities featuring Avengers: Infinity War star Scarlett Johansson, Demi Lovato, Kylie Jenner, Emma Watson and other actresses who were targeted with the nude photos scandal dubbed as Fappening 2.0.
Also Read: Wonder Woman Gal Gadot X-rated photos leaked online by Celeb Jihad?
Gossip Cop confirms that the actress's cyber space was attacked and several pictures featuring Hyland nude were shared online. The 26-year-old star is aware of the attack and sources close to her have told Gossip Cop that she plans on taking legal actions against the porn site. The website reports, "She plans on legal action against any outlet that publishes the explicit material."
However, there is no formal statement issued by her on the matter. Radar Online claims that the photos leaked feature a woman resembling Hyland showing off a lot of skin and undressed (topless and bottomless) with only a robe wrapped around her.
In another picture, the woman is seen kissing a man who bears a resemblance to her ex-boyfriend Matt Prokop. The couple split in 2014. The picture again features her nude. She shot to fame after she featured on the hit ABC sitcom in the role of Haley Dunphy.
If Hyland takes legal action against Celeb Jihad, this wouldn't be the first one for the website. Gossip Cop notes that last December, the site was forced to remove topless photos of Lucy Hale after her attorney sent Celeb Jihad a cease and desist letter. They were also forced to remove nude photos of Amanda Seyfried published in March this year after she took legal actions against the site.
It is still unclear who is behind all the hacking and if Hyland's photos were leaked by the same hackers who attacked celebrities in the past.