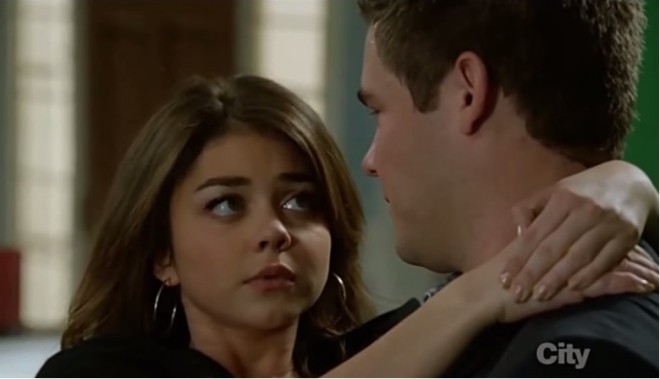 After almost two seasons worth of "will they.. won't they" Haley (Sarah Hyland) finally admitted her feelings to Andy (Adam Devine), albeit she thought he was sleeping. However, this begs the question, will the "Modern Family" show runners get the most adorable couple on TV together in season 6?
In season 6 episode 17 "Closet? You'll Love It" Andy gets an appendicitis and Haley finally admits to him, while he is heavily sedated, that he has a really good chance with her. And although she was heartbroken when his girlfriend Beth comes to visit Andy at the hospital, she had assumed that Andy did not hear her. However, after Haley leaves the room, Andy opens his eyes with a look of confusion and surprise, implying that he did hear her.
Andy also expressed his desires for her in the Season 5 finale episode "The Wedding (Part 2)". During their conversation at a coffee shop, Haley tells Andy, that Beth, a US coast guard is playing him. And when Andy tells her that she knows nothing about Beth she says, "I think I know Beth. In fact, I think I've been her a few times....She gives you just enough to keep you on the hook." She tells him that he deserves better.
However, when Andy, who hopes that she was talking about herself, asks her if she meant anyone in particular when saying he deserves better, Haley says no. Then, she was not sure what she felt for him; moreover, she did not want to hurt him.
However "Modern Family" episode which aired on 4 March, gives hope to the fans that the duo may start dating and there is still hope for the adorable couple. Here are some of the best moments of Haley and Andy: