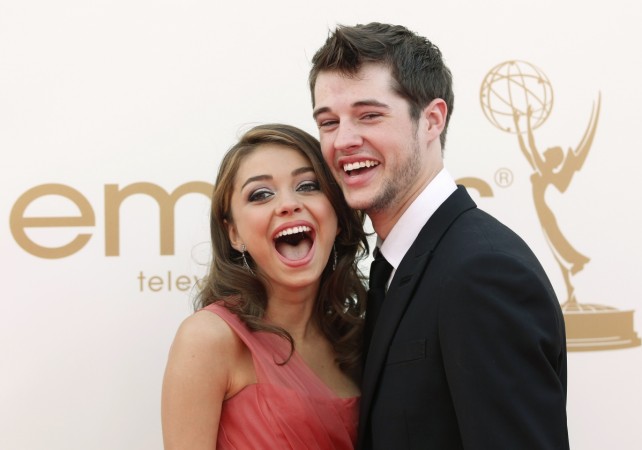 Actress Sarah Hyland, who portrays the role of Haley Dunphy in ABC sitcom "Modern Family", obtained a 3-year restraining order against her allegedly abusive ex-boyfriend Matthew Prokop on Monday.
A hearing on the Temporary Restraining Order (TRO), which she received against ex-beau last month, was scheduled on Friday. But Hyland consulted Lindsay Lohan's famed lawyer Shawn Holley and arranged a judge to upgrade the TRO to a permanent order on Thursday, a court official told Daily News.
Considering Hyland's request, Los Angeles Supreme Court Judge Andrea Thompson granted her a Permanent Restraining Order for 3-years.
As per the court order, Prokop must stay 100 yards away from Hyland and her dog Barkley Bixby. Additionally, he cannot threaten, attack or harm her pet in anyway and he must not possess ammunition or a gun. He has also been asked to stay away from her workplace, stated TMZ.
Last month, the young actress filed a court document against Prokop claiming that he had physically and verbally abused her during the last four years of their relationship.
In the court document, Hyland stated that Prokop allegedly pinned the actress against a car door during an argument over her outfit in May and repeatedly called her a c**t and choked her.
"His grip was so tight that I could not breathe or speak. I was scared and in fear for my life," revealed Hyland in the court papers, adding that she had "a very sore throat following this event."
Finally, fearing of her life, Hyland decided to "peacefully end the relationship". She also asked for help from her on-screen mother Julie Bowen.
Prokop is said to have freaked out on seeing Julie and "ran outside into the backyard and began screaming". Then, he threw a lighter at Hyland and threatened to set her house on fire. He also said she would never see her dog again, according to the actress.
Hyland and Prokop, who were in a relationship since 2008, called it off in late August.
"[He] relentlessly bombarded me with vile, threatening and emotionally disturbing texts and voice mails including his own suicide threats," the actress noted.
Hyland also claimed that he joined a rehab facility in August but was released on 21 September. She opted for a restraining order after the director of the facility suggested her to go for it due to the mental state and attitude of Prokop towards her.