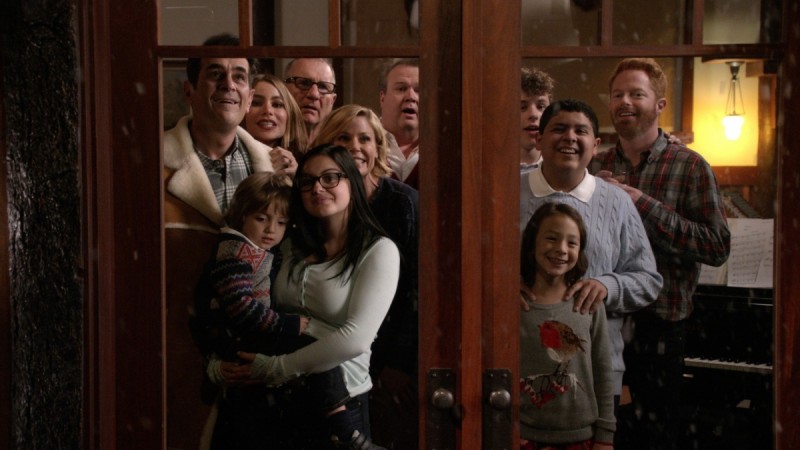 "Modern Family" Season 7 episode 20 promises to be a hilarious one, but fans will have to wait for a little while before "Promposal" airs on ABC. The episode, which will be aired on Wednesday, May 4, will see the two young men of the show preparing for their prom with the help of trusted uncles.
The upcoming episode, as the title suggests, is all about prom and the art of asking a girl out. While Luke (Nolan Gould) and Manny (Rico Rodriguez) are the ones preparing for their promposal, their uncles Cam (Eric Stonestreet) and Mitch (Jesse Tyler Ferguson) decide to help them plan it.
As always, Cam gets too caught up in the activity and some pent up frustrations about his own prom resurface in "Promposal." He goes a little overboard while helping Manny and hopefully the latter will help his uncle get over whatever is going on. The promotional photos for Season 7 episode 20 shared by SpoilerTV shows Cam, Mitch, Manny, Luke and their dates in prom settings.
Also Read: Rare, adorable photos of 'Magic Mike' star Channing Tatum with wife Jenna Dewan
The episode will also see Jay (Ed O'Neil) trying to get his toddler son Joe (Jeremy Maguire) to do some handiwork and give him a head start in becoming the man Jay wants him to grow up to be. As viewers know, Jay is man's man, but the most manly child he is father to, is his daughter Claire (Julie Bowen). Mitch is uninterested in most of the things Jay enjoys and so is Manny. He hopes this will not be the case with Joe.
Meanwhile, Phil (Ty Burrell) will become the vigilante for Gloria (Sofia Vergara) when she learns that her Auntie Alice (June Squibb) is stealing her popular hot sauce recipe. Simultaneously Claire (Julie Bowen) stresses out about the upcoming closet-con.
As you wait for the return of "Modern Family" Season 7, check out the top 8 Haley-Andy moments shared by ABC blog site.