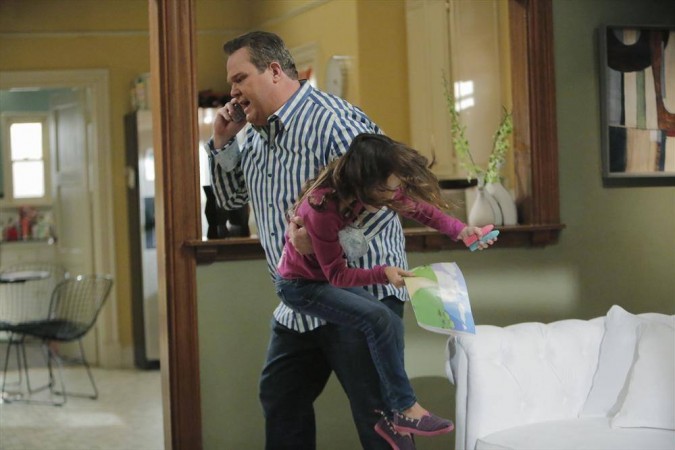 ABC's most popular comedy series "Modern Family" will be airing Season 6 episode 21 on Wednesday, 29 April. "Integrity" will see Jay and Phil getting miffed with their respective spouses, Mitch and Cam thinking about adopting another baby, Haley learning to stand up for herself, and Claire losing sight of her morals for the sake of her son.
Jay (Ed O'Neill) and Phil (Ty Burrell) are on their way to pick up Lily's hand-me-down princess castle for Joe. However, the two of them are in a terrible mood because Claire (Julie Bowen) will not let Phil buy a videogame console, while Jay thinks Gloria (Sofia Vergara) is giving Joe "girlie" toys.
Mitch (Jesse Tyler Ferguson) and Cam (Eric Stonestreet), while baby-sitting Joe, feel like adopting another child. However, Joe soon starts to become too much for them to handle.
Haley (Sarah Hyland) is tired of getting pushed around at her work and seeks Gloria's help in learning how to be firm and stand her ground. Her mother Claire, on the other hand, is trying to bribe Luke's (Nolan Gould) principal, Principal Brown (guest star Andrew Daly), into giving him a student award.
Watch Season 6 episode 21 of "Modern Family", titled "Integrity", on 29 April, Wednesday, at 9.00 pm (EST) on the ABC network.