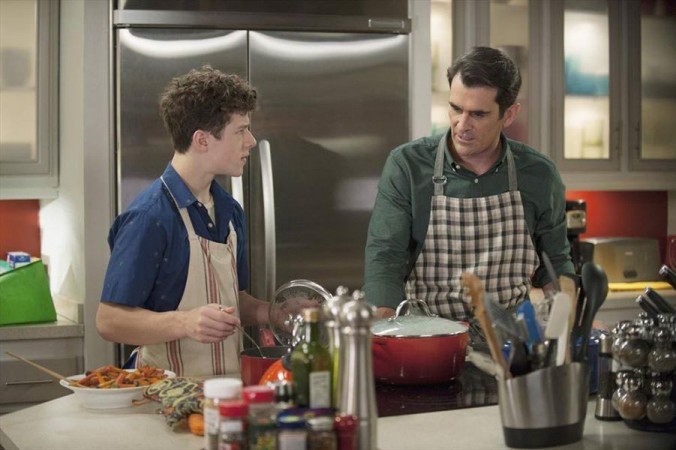 Ahead of Thanksgiving on 27 November, the cast and crew of "Modern Family" season 6 will be preparing a special dinner for its millions of viewers in the upcoming episode of the sitcom titled "Three Turkeys."
"Phil (Ty Burrell) cooks Thanksgiving dinner this year with Luke (Nolan Gould) as his sous chef, and Claire (Julie Bowen) has no confidence in them and prepares a secret turkey of her own as backup," reads the official synopsis of the next episode.
Though "Modern Family" season 6 episode 8 is titled "Three Turkeys", the synopsis has no indication about the third turkey. However, a teaser image of the upcoming episode shows Gloria Pritchett (Sofía Vergara) holding a turkey in her hand.
As per the synopsis, Jay (Ed O'Neill) and Gloria had plans to spend the holiday away but when the trip gets canceled last minute, they decide not to tell anyone, which quickly becomes the worst idea ever since the family dinner gets suddenly moved to their house and it turns into a mad scramble to cover their tracks.
On the other hand, Mitchell Pritchett (Jesse Tyler Ferguson) has been tired of always being the bad cop, so when Lily (Aubrey Anderson-Emmons) refuses to wear a nice dress to dinner, he forces Cameron Tucker (Eric Stonestreet) to deal with it who then comes up with a very unconventional approach.
However, the fans of "Modern Family" will have to wait until 19 November to know more about the special Thanksgiving dinner.
Check out the above slideshow for some craziest dinner moments from "Three Turkeys."