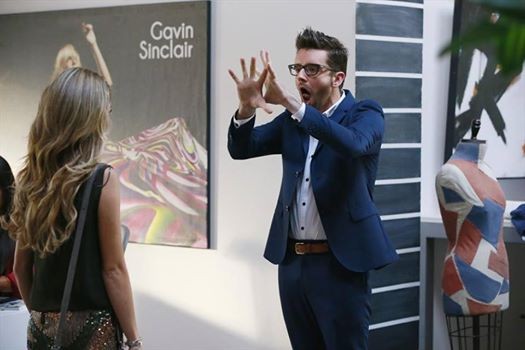 The cast and crew of "Modern Family" are prepared to steal the hearts of the viewers with a stunning episode of the popular American sitcom this Wednesday at 9 pm on ABC.
Phil Dunphy (Ty Burrell) and Claire Dunphy (Julie Bowen) will get tensed over the relationship of Haley Dunphy (Sarah Hyland) and Manny Delgado (Rico Rodriguez). Whereas, Mitchell Pritchett (Jesse Tyler Ferguson) and Cameron Tucker (Eric Stonestreet) will be thrilled to meet a popular news reporter at a school function.
Here are the five things the viewers must know before "Queer Eyes, Full Hearts":
1. Michael Urie to Appear on the Show: The hilarious Urie will make his guest appearance in "Queer Eyes, Full Hearts" as an entitled and influential fashion stylist Gavin Sinclair.
2. Haley Dunphy's Interview: As per some of the spoilers, Haley will have an interview sequence with Urie in "Modern Family" season 6 episode 8. Haley will be excited to meet the fashion stylist, indicated the promotional images of "Modern Family" season 6 episode 7.
3. Manny's New Spanish Teacher: Another fascinating sequence that is going to tickle viewers' funny bones will be the introduction of Manny's new Spanish teacher.
Though Gloria Pritchett (Sofía Vergara) will have a good time with the new handsome teacher, he might evoke jealously and deception in the minds of Jay Pritchett (Ed O'Neill).
4. Guest Stars: The guest stars to appear in "Modern Family" season 6 episode 7 includes Adam deVine as Andy, Nicholas Gonzalez as Diego, Heather Mazur as Anne, Jenn Liu as Mahnoosh and Craig Michaelson as Don.
5. Episode 8 Spoilers: "Phil cooks for Thanksgiving and enlists Luke as his sous-chef, but Claire secretly prepares another turkey when she doesn't trust them to get the job done. Meanwhile, Jay and Gloria's holiday travel plans fall through, though they come to regret not telling anyone about it; and Cameron comes up with an unusual idea to make Lily wear a dress for dinner," reads the official synopsis of "Modern Family" season 6 episode 8 titled "Three Turkeys."