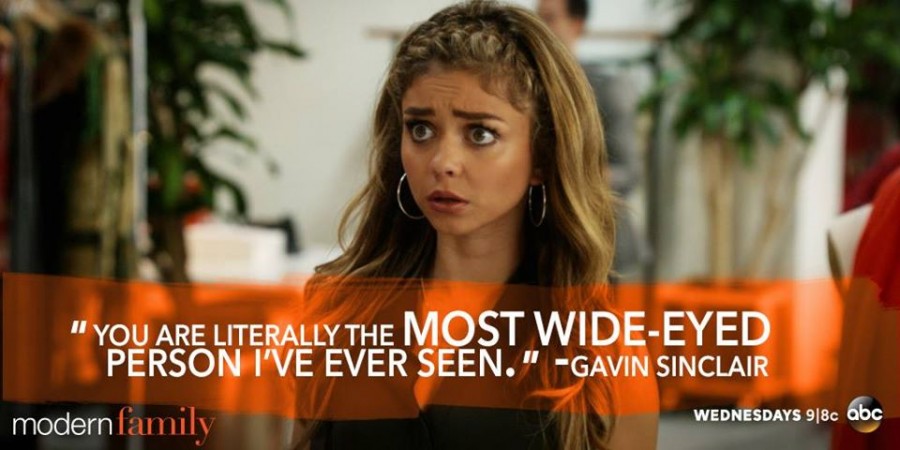 Wednesday night's episode of "Modern Family" season 6 titled "Queer Eyes, Full Hearts" revolved around the romantic sequences of Jay-Gloria and Mitch-Cam.
The popular sitcom opened up with a sequence of Haley Dunphy (Sarah Hyland) and Andy (Adam DeVine) preparing themselves for a job interview. The plot gets better when Claire Dunphy (Julie Bowen) becomes skeptical about her daughter's new relationship.
The mother gets a shock of her life when Haley informs her that she is having sex with Andy. The sequence concludes with Haley working as an assistant to fashion stylist Gavin Sinclair (Michael Urie), and Andy as an assistant to Phil Dunphy (Ty Burrell).
It will be interesting to watch the pairing of Andy and Phil as well as Haley and Sinclair in the upcoming episodes of "Modern Family" season 6.
Meanwhile, Gloria Pritchett (Sofía Vergara) insists Manny Delgado (Rico Rodriguez) to learn Spanish and she appoints a young tutor for him. But Manny disappoints her by saying that he is interested in French. Things take a twisting turn when Jay Pritchett (Ed O'Neill) becomes suspicious of Gloria and sends back the teacher.
After a while, Gloria realizes that Jay did it out of jealously and she tries to confront him. She even tells him about her discomfort in speaking English, which makes him feel guilty. To normalise the situation, Jay decides to surprise his wife by bringing back the Spanish teacher.
Initially, Gloria does not get thrilled to see the tutor back but her excitement increases when Jay tells her that he is going to learn Spanish for her.
However, jealousy and deception comes in the picture again when Mitchell Pritchett's (Jesse Tyler Ferguson) idol reporter Anne Gibbs (Heather Mazur) plans a story with Cameron Tucker (Eric Stonestreet). Though the interview follows the professional and personal life of Tucker, he takes the opportunity to reveal the importance of Mitchell in his life.