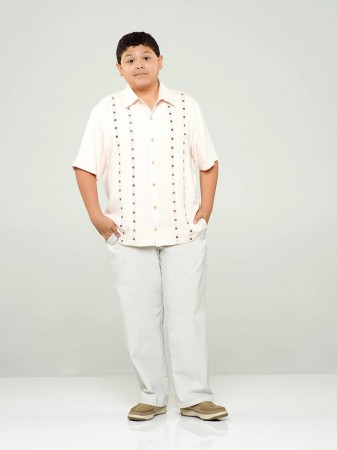 When "Modern Family" returns on ABC with an all new episode titled "Queer Eyes, Full Hearts," Gloria Pritchett (Sofía Vergara) will be seen trying to convince Manny Delgado (Rico Rodriguez) to learn Spanish. While the latter isn't really sure of it, he decides to make an effort to adopt his mother's family culture.
The new trailer of "Modern Family" season 6 episode 7 shows Gloria getting excited to hear the door bell ringing, as she knows that it is Manny's new Spanish teacher (Nicholas Gonzalez).
But Manny does not seem very excited about learning Spanish and says "I'm gonna say one more time. I really think French could be a better fit for me," reported Entertainment Weekly.
And as the tutor gets in, Manny informs him, "Spanish does not seem natural to me. I don't like the way it hits my ear." However, Gloria continues with her efforts to convince her son and says, "Spanish could be more natural than your mother's tongue in your ear."
While the idea of Manny learning Spanish might sound simple, things might change for him and Jay Pritchett (Ed O'Neill) after the introduction of the young handsome tutor. Jealousy and deception are likely to come into picture, as they watch Gloria spending a good amount of time with the teacher.
On the other hand, Haley Dunphy (Sarah Hyland) will be excited to meet stylist Gavin Sinclair (Michael Urie), with whom she will have interviews for a job.
Mitchell Pritchett (Jesse Tyler Ferguson) and Cameron Tucker (Eric Stonestreet) will be thrilled to meet a popular news reporter at a school function.
Meanwhile, "Phil and Claire don't know if they should be happy or concerned that Haley and Andy are spending a lot of time together, however, they soon find things are not what they appear," stated the official synopsis of "Modern Family" season 6 episode 7.
Watch "Queer Eyes, Full Hearts" this Wednesday night on ABC at 9 pm. The show will be live streamed here.