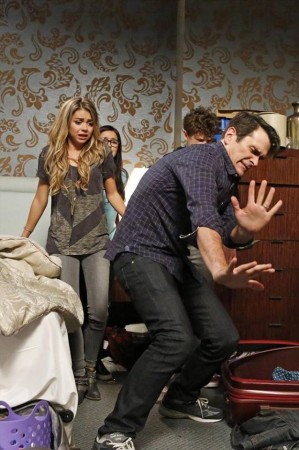 Alongside the troubles faced by the Dunphys, the viewers will get to watch the problems of Gloria, Cameron and Mitchell in the next episode of "Modern Family".
In the fifth episode of the American sitcom titled "Marco Polo", the Dunphy family will move into a cramped hotel room as their house is getting treated for mold, stated the official synopsis, reported Spoiler TV.
This is an opportunity for the Dunphys to spend quality time together, but things don't seem to go as peacefully as indicated by the synopsis. Claire (Julie Bowen) and the kids are less than enthused and they might plan for some mischief to frighten everybody.
As per the promotional photos released by the ABC Television Network, the entire family gets frightened seeing a bomb in the hotel room. However, it looks like one of the family members have played prank.
Meanwhile, Gloria becomes over protective when Manny starts dating an older, popular girl, and Cameron is under a lot of pressure to maintain his team's winning streak, but when he realizes Mitchell may be a jinx, emotions run high, according to the synopsis.
However, the sixth season of "Modern Family" revolves around the Dunphys than the other two families.
"Not that I'm complaining, but I feel like Modern Fam is basically The Dunphy Show these days," wrote a fan on the official Facebook page of "Modern Family".
"Why the families do not not have enough story lines. They are all so talented..I want more time on spent on the entire cast," another fan noted.
The guest stars to appear in "Modern Family" season 6 episode 4 are Folake Olowofoyeku as Ayoola, Rory Scovel as Carl, Guy Stevenson as Jim, Sam Lloyd as Lester, Semi Anthony as Ndulu, Cate Cohen as Patti, Madison Iseman as Sam and Zedrick Restauro as Waiter.
Set the calendar to watch "Marco Polo" on 15 October at 9.00 pm on ABC Television Network.