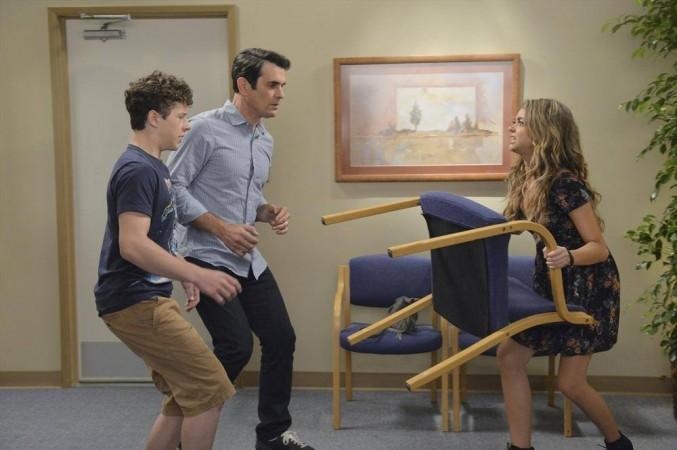 ABC will air Season 6 episode 18 of "Modern Family", titled "Spring Break", on Wednesday, 25 March.
After a two-week hiatus, "Modern Family" is back in time for spring. For Claire (Julie Bowen) spring is the time for cleaning, while Phil (Ty Burrell) is all set for his favourite outdoor sports. Their girls have a concert to attend as the other members of their extended family have their own drama to deal with.
As Claire goes about cleaning almost everything in the Dunphy household, her husband - the self-titled "cool dad" - is planning on enjoying some quality time with son Luke (Nolan Gould). As Phil tries to trampoline with Luke, he realises that he is no longer the spring chicken he once used to be.
Meanwhile, Luke has become seemingly the master of everything, "out-Philling" his father in everything Phil once used to be good at. Phil is seen walking away in annoyance as Luke displays his "trampolining" skills.
The Dunphy sisters, who finally seem to be able to understand each other, have gone to a concert together. Alex (Ariel Winter), who is usually cooped up in the house reading and fretting about her future, has decided to follow her sister Haley's (Sarah Hyland) footsteps for once and chill out. Haley is taking her younger sister Alex to a music concert so she can get her mind off college.
Their grandfather Jay (Ed O'Neill) and his young wife Gloria (Sofia Vergara) have gotten into a wager, wherein both of them promised to stay away from their respective addictions. While Jay's addiction is smoking Cigars, Gloria's is watching Spanish drama series.
Although they pretend to be alright with this, Jay tries to sneak in a smoke by going along with his son Mitchell (Jesse Tyler Ferguson) to pick his daughter Lily (Aubrey Anderson-Emmons) from camp. Mitch's husband Cam (Eric Stonestreet) becomes Gloria's respite when she projects her need for drama on the rivalry between Cam and a Senor Kaplan.
Watch Season 6 episode 18 of "Modern Family", titled "Spring Break", at 9.00 pm (EST) on Wednesday, 25 March, on ABC.