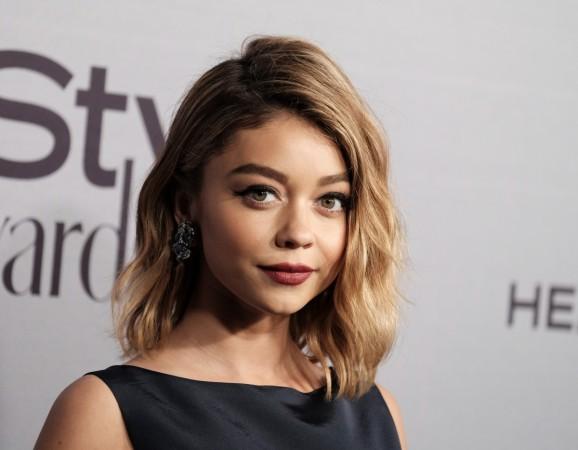 It appears Modern Family very well knows how to keep its loyal fans excited by throwing one twist after another. After airing the death of DeDe Pritchett a few weeks ago, the popular ABC sitcom has introduced another surprising pregnancy plot.
Yes, the Haley Dunphy, played by Sarah Hyland, is pregnant and the baby news was discovered by Haley and the audiences in the weirdest sequence possible. In episode 7 of the ongoing season 10, the eldest daughter of Phil and Claire Dunphy checked into the emergency room after a bizarre lipstick accident.
During the episode, Hyland's character went on a carnival date with boyfriend Dylan. The duo then decides to play the bumper cars game. But all of sudden Haley decides to apply lipstick and at the meantime, Dylan bumps into her car. As a result, the lipstick got stuck inside her nose.
She was immediately rushed to the emergency room where the nurse dropped the bomb after doing some routine blood tests. It is, however, still unclear who is the father of the baby. As in the current season, Haley was confused between her past and present lovers, Dylan and Arvin and finally, she chose the former.
Earlier, Hyland has given a subtle hint about her character's 'bumpy' future. She told Hollywood Reporter that fans need not worry about DeDe's death as "there is a bigger thing than this." "It was a shock, that's for sure. There's a lot happening with Haley, but I can't say," she told the website.
The upcoming episode is expected to unravel the mystery of the baby daddy. It remains to be seen, how her family reacts to the shocker. The actress has previously hinted at Haley's sweet cravings. "There was this scene where [I'm eating] Twizzlers [and] I don't like licorice -- it makes me want to vomit," she told Entertainment Tonight.
"So, we're walking up the stairs and I have to be, like, talking non-stop, eating Twizzlers. I almost threw up, like, three times. And there's this scene where I'm having a lollipop and eating all of the chocolate and then spraying whipped cream into my mouth from the can, and oh my goodness, I ate my entire weight in candy, she added.
Modern Family airs at 9 p.m. ET/PT on Wednesdays on ABC.