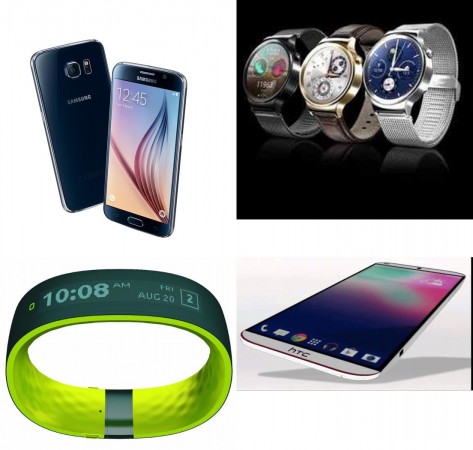 Known as the Mecca of smartphones lovers, the Mobile World Congress in Barcelona, presents several flagship phones, significant technology and ground-breaking innovation every year. And this year is no exception.
On the very first day of the event we experienced the most anticipated smartphones like Samsung galaxy S6 and Galaxy S6 Edge, HTC One M9 and a few mid-budget smartphones. Along with these some manufacturers also released wearable's, smartwatches and a few other accessories. If you're not following each updates of the event here is the summary of the first day.
Smartphones
Samsung Galaxy S6 and Galaxy S6 Edge
Samsung released their much-anticipated smartphone Galaxy S6 and a curvy display featured Galaxy S6 Edge. Both the smartphones feature similar 5.1-inch QHD display, Octa-Core processor, LPDDR4 RAM and available in 32, 64 and 128GB variants. Runs on Android 5.0 Lollipop out of the box the both the device boasts 16mp rear and 5mp front camera.
HTC One M9
HTC has launched their latest flagship smartphone HTC One M9 in the event. The latest One M9 retains several specification of its predecessor including the design language but increases the Processor power, RAM, camera and few other aspects. Runs on Android with overlaid HTC Sense interface, the One M9 20mp rear camera, Snapdragon 810 SoC, 3GB RAM and 32GB of in built storage.
Sony Xperia M4 Aqua
Though Sony has remained tight-lipped on their much anticipated smartphone Xperia Z4, they launched a mid-budget smartphone on the first day of the event. The IP68 certified smartphone can survive up to 30 minutes under 1.5m of water. The M4 Aqua features a 5.2-inch 720P IPS display and runs on 64-bit SnapDragon 615 SoC, 2GB RAM and 8/16GB inbuilt memory. The device further includes latest Android 5.0 Lollipop OS, 13mp rear and 5mp front camera.
Smartwatch/ Wearable
Huawei SmartWatch
Instead of launching a smartphone, Chinese manufacturer Huawei has launched a smartwatch. Named Huawei Watch, the Android Wear based smartwatch looks elegant. The circular smartwatch boasts a 1.4-inch 400x400 OLED display at 286 pixels per inch and will be offered with interchangeable metal and leather bands.
HTC Grip Wearable
Apart from One M9, the HTC has also launched a wearable band. Dubbed as Grip, the wearable Smartband, looks elegant and connects the smartphone via Bluetooth. The wearable features a multi-sport mode, which can track various physical activities like running and cycling. In partnership with Under Armour, the wearable will be retailed at $199.
Accessory
SanDisk Micro SD 200GB
Memory manufacturer SanDisk has launched a 200GB micro SDXC card. The new card has a data transfer speed of 90MB/s and will be retailed at $399.99.