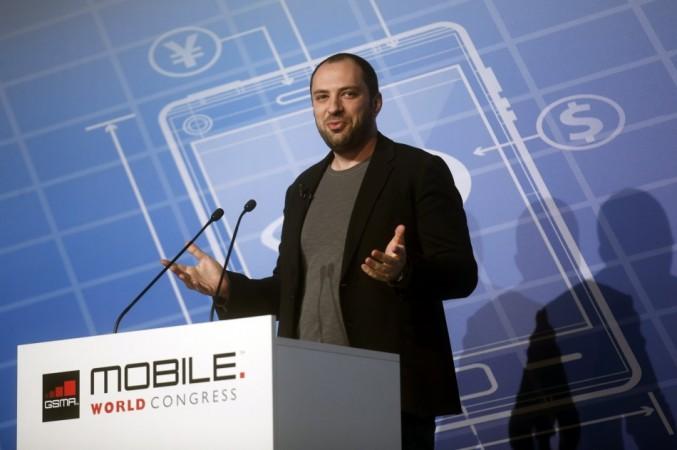 The much-hyped Mobile World Congress 2014 (MWC 2014) is not just about the announcement of products by technology leaders. The event also features special keynote presentations by some of world's most renowned visionaries.
This year's MWC in Barcelona will witness big names like Mark Zuckerberg, Virginia M. Rometty, Jan Koum and several others sharing their visions on the future of mobile technology. The conference sessions of the event will be streamed live on Mobile World Live website.
MWC 2014 began at 8am (11am PST, 2 pm EST, 7pm GMT, 12:30 pm IST) on Monday in Barcelona and will conclude on 27 February. Facebook CEO Mark Zuckerberg will give live keynote presentation on day 1 of the event.
Here is a full list of the keynote speakers at Mobile World Congress 2014:
1. Mark Zuckerberg, Founder & CEO, Facebook
2. Virginia M. Rometty, Chairman, President & CEO, IBM
3. Bob Sell, Group Chief Executive, Communication, Media and Technology, Accenture
4. Jan Koum, Co-founder & CEO, WhatsApp
5. Michel Combes, CEO, Alcatel-Lucent
6. Daniel Hajj, CEO, America Movil
7. Laetitia Gazel Anthoine, CEO and Founder, Connecthings
8. Timotheus Hottges, Chief Executive Officer, Deutsche Telekom AG
9. Jon Matonis, Executive Director & Board Member, Bitcoin Foundation
10. Ana Maria Llopis, Non-Executive Chairwoman, DIA Group
11. John Chambers, Chairman & CEO, Cisco
12. Ahmad Abdulkarim Julfar, CEO, Etisalat Group
13. Michael Corbat, CEO, Citigroup
14. Stephen T. Odell, President of Europe, Middle East and Africa, Ford Motor Company
15. Joseph Tucci, Chairman & CEO, EMC Corporation
16. Anne Bouverot, Director General, GSMA
17. Michael Abbott, CEO, Isis
18. Ajit Joshi, CEO, Infiniti Retail
19. Jahangir Mohammed, Founder & CEO, Jasper Wireless
20. Sirgoo Lee, Co-CEO, Kakao Corp.
21. Hans-Holger Albrecht, President & CEO, Millicom
22. Tadashi Onodera, Chairman, KDDI
23. Kaoru Kato, President & CEO, NTT Docomo
24. John Hering, Co-Founder & CEO, Lookout
25. Rich Riley, CEO, Shazam Entertainment
26. Lance Howarth, CEO, Raspberry Pi Foundation
27. Jinwoo So, President & CEO, SK Planet
28. Chua Sock Koong, Group CEO, SingTel
29. Mats Granryd, President & CEO, Tele2 Group
30. Pat Gelsinger, CEO, VMware
31. Michelle Gallen, CEO, Shhmooze
32. Jo Lunder, CEO, VimpelCom
33. Robert Bakish, President and CEO, Viacom International Media Networks
34. Jon Fredrik Baksaas, President & CEO, Telenor Group, and Chairman, GSMA