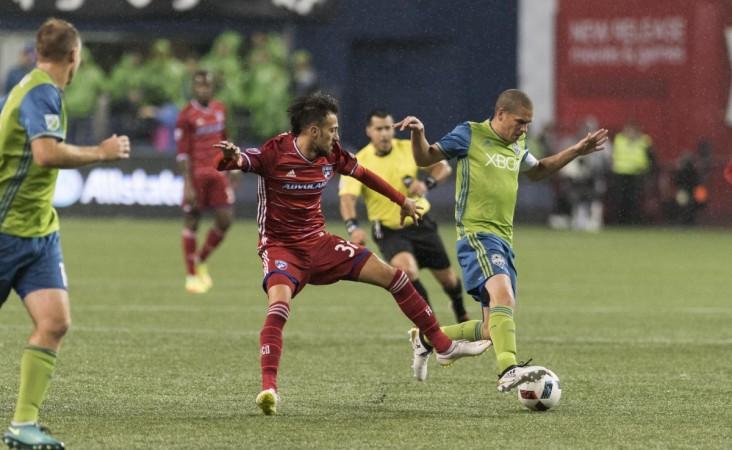 Just three days after squeaking out a 1-0 knockout round victory over Sporting Kansas City marked by a handful of hotly contested calls, the Seattle Sounders left nothing ambiguous about the first leg of their Western Conference semi-final match with FC Dallas at CenturyLink Field on Sunday, mlssoccer.com reported.
The Sounders scored three goals in eight minutes at the start of the second half, thrashing the Supporters' Shield winners 3-0, and will now take a commanding cushion into the second leg of the series next Sunday at Toyota Stadium.
It was Sounders' Nelson Valdez who opened the scoring for the second consecutive match.
"Nelson deserved [to start] because his work throughout the season," Sounders interim head coach Brian Schmetzer said after the game. "I felt that he was on a high after he scored the winning goal against Kansas City."
The 31-year-old Paraguayan also scored in the Sounders' Knockout Round triumph over the LA Galaxy last season, and is now tied with Clint Dempsey and Eddie Johnson as the top playoff goal-scorer in Sounders history.
"In the second half, in those 20 minutes Seattle outplayed us and we have to accept that," FC Dallas head coach Oscar Pareja said. "We should have been more mature after the first goal."
Trinidadian international, Joevin Jones, had two assists on Sunday, good for three in his last two matches and four in his last six.
He has been incredibly effective operating from the back line and has been as dangerous an offensive weapon as the Sounders have had in recent games, soundersfc.com reported.
"The talk after the game was, 'We're not done. We're not finished','' Schmetzer said. "That message will be repeated throughout the week because Dallas is a very dangerous team. We're not taking anything for granted.
"If we come down there saying we've already won, then that will be a big mistake. We won't allow that to happen."