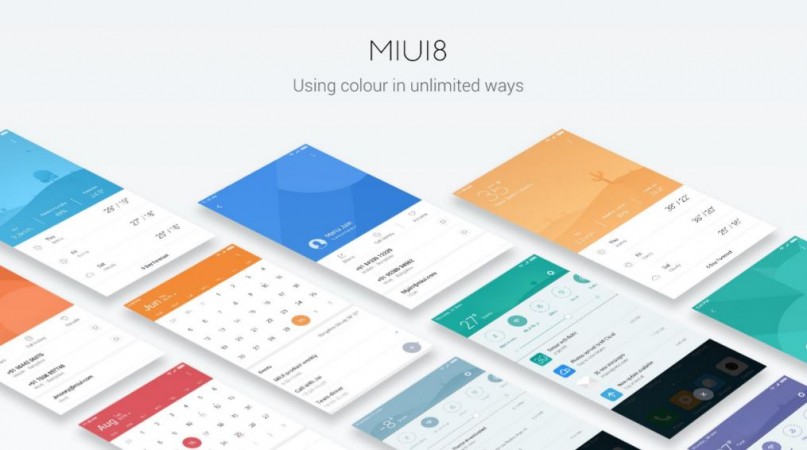 Xiaomi revealed all the details of its latest custom ROM, MIUI 8.0, at the launch of Mi Max smartphone in India on June 30. The latest software is based on Google's latest Android 6.0.1 Marshmallow and comes with several upgrades.
We have already covered the key features such as dual apps, second space, scrolling screenshots, quick ball, T9 dialer with Hindi search, revamped photo gallery and more, along with the list of eligible Mi smartphones for the software. Since the new UI brings a unique appeal, users of other brand smartphones or non-Mi phones can be easily tempted for a similar experience on their phones without switching.
With Xiaomi's MIUI 8, it is possible for third-party smartphone owners to run the custom ROM on their phones by manually flashing the software on the device. But it is also important to see if the smartphone is compatible with MIUI 8 before proceeding. Below is the list of all the eligible smartphones that support MIUI 8 ROM and a source link at the end of the article will guide you with the steps on how to manually flash the software.
Google Nexus
Galaxy Nexus
Nexus One
Nexus 4
Nexus S
Nexus 7 II
Nexus 5
Nexus 7
Samsung
Samsung Note 4
Samsung Galaxy S5
Samsung S4 L720
Samsung S3 E210L, SC03E
Samsung Galaxy Note 3, N9005
Samsung Galaxy Note 2
Samsung Galaxy Note I9220
Samsung Galaxy J
Samsung N7105, N7108
Samsung N9002, N9008V
Samsung I9000, I9500, I9505, I9308, I9058, I9100G, I9305, I9300, I9502, I9100
Samsung I897
Samsung M250L
Samsung E120L, E 120K, E120S
Samsung T959
Motorola
Moto Defy, Defy+
Moto mb886, ME865, ME860
Moto Milestone
Moto XT912, XT910
HTC
HTC One M8
HTC One X, V
HTC One M7 S
HTC One
HTC One XT
HTC Evo 3D, 4G
HTC Desire S, Z, G7, HD, 816t,
HTC Rezound
HTC Sensation G14, G18
HTC One S, (S3)
HTC Incredible S
HTC Mytouch 4G
HTC Butterfly DNA
HTC Touch HD2
HTC T329T
Huawei
Huawei 3X
Huawei Ascend P1
Huawei Ascend D1
Huawei Honor 3, 3C, 3X
Huawei Honor 2
Huawei Honor 6
Huawei Honor
Huawei P6
Huawei G6-T100
Huawei P7
Huawei G700T, G610U, G510, G610T
Huawei C8860E, C8950D, C8815, C8812, C8813Q, C8812E
Huawei G525, G520
Huawei C8813
Huawei U8818, U9510E, U8825D, U8951, U8800 Pro, U880
Sony
Sony Z3
Sony Z2
Sony Z1
Sony Ericsson ST18I, LT18i, LT26i
Sony Xperia Ion
Sony L36h
Sony LT28I
LG
LG G3
LG G2
LG G2 L22
LG G Pro
LG F180, F240L
LG P990, P880, P760, P970
LG L01F
LG SU640
LG LU6200
LG Pradaku 5400
Oppo
Oppo Finder
Oppo N1
Oppo Find 5
Oppo Find 7
ZTE
ZTE nubia Z5, Z5S, Z7 max, Z5S mini, Z5 mini, Z7 mini
ZTE N5
ZTE Star 2, Star 1,
ZTE N988, N881F, N919, N970, N909, N880E, N986
ZTE Axon
ZTE V5 Max
ZTE V988
ZTE Q802t
ZTE Redbull
ZTE U950, U5, U930, U988s, U956
ZTE G718C
ZTE Grand SII, U970
Other smartphones
OnePlus One
Meizu MX2
Vivo Xshot
Lenovo S820, A830, P780, S920
Lenovo K3
Micromax A116 Canvas
Micromax Canvas A117
Micromax Canvas 4
Coolpad 5890
Coolpad Dashen F2
Xolo Q1000
Source: MIUI