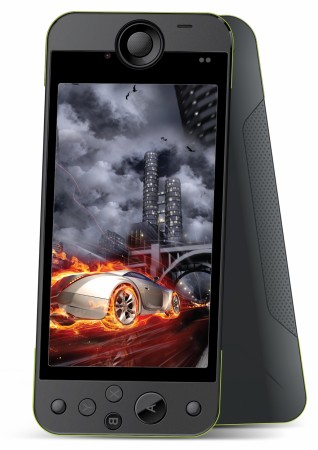 Mitashi Electronics has launched two devices in the Thunder Series, GameIn ThunderPro Quad-core console and Play Thunderbolt smartphone, at the Stuff Gadget Show 2014. Both the devices are based on Android and will concentrate on two different genres.
Play Thunderbolt Smartphone
Inheriting the powers of a smartphone and gaming console, the Play Thunderbolt smartphone has been designed for the youth. Sporting a 12.7cm HD IPS screen with 1280 x 720p resolution and 320 dpi touchscreen, the Play Thunderbolt smartphone is encased in a heavy metal body. The Android joystick makes it the most distinct looking phone in the market. Powered by a 1.2GHz processor with a PowerVR SGX 544 Mhz GPU coupled with 1GB of RAM and 16GB of Internal memory, the Play Thunderbolt smartphone has an expandable of memory of up to 64GB. The dual sim smartphone comes with 3G video calling support and a mammoth battery life of 4200 mAh. To add to the full throttle gaming experience, Mitashi has powered the Play Thunderbolt with dual speakers, joystick, ultra sensitive G sensor, OTG support – all that make every game life-like.
GameIn ThunderPro Quad-core
The GameIn ThunderPro Quad-core console boasts a 1.6 GHz processor with a Mali 400MHz GPU coupled with 1GB worth RAM and 8GB of internal memory. It features Trigger buttons, dual joystick along with dual speakers to get the adrenaline pumping. What's more, apart from the big library of hardcore and casual android games, you can relive the charm of playing the 8 / 16/ 32 Bit games that work like a magic on this stock android device. The featured HDMI connectivity will allow you to enjoy the big screen gaming experience. In addition, the ThunderPro Quad-core's Wifi Miracast will also allow you to experience the wireless gaming console experience through your smart TV at home. The console also comes with OTG support and preloaded hardcore games from EA and other renowned Android game developers.
At the launch, Adnan Chara, vice president Gaming, Toys & Telecom, Mitashi Edutainment Pvt. Ltd., said, "Mitashi has always pioneered innovative concepts and products fit for mass gaming consumption in the country. We've given Indians their first Cricket LCD Game, the first 8bit Cricket Game, the first Talking video game (Mitashi Banaye Crorepati), the first hand held Portable 8 Bit gaming console and touch gaming console to the recently launched Thunder Bolt series - India's First Android Gaming Consoles! The GameIn ThunderPro Quad-core Console is an uncompromised quad-core gaming experience and its extension - the Play Thunderbolt is the world's first smart phone with a joystick! The ergonomics of our Thunder series is sure to thrill all gaming enthusiasts who have never experienced anything like this before. It's fair to say that 'You ain't gaming if you ain't thundering!' This is a game-changer, in every sense of the word."
Both the GameIn ThunderPro Quad-core console and Mitashi Play Thunderbolt smartphone are available exclusively through Flipkart's e-retail store at Rs. 9,990 and 12,990, respectively.