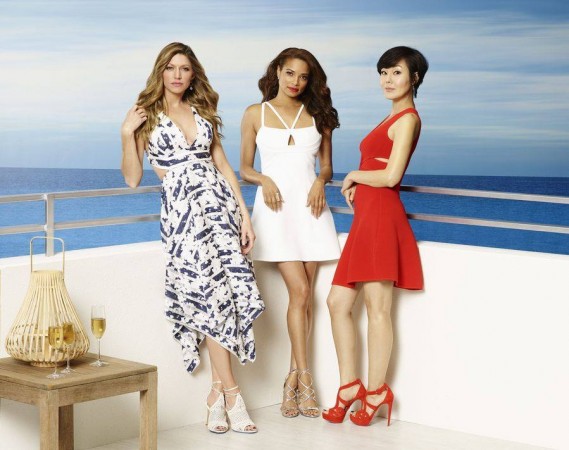 As far as the drama on "Mistresses" is concerned, there is plenty. The three main characters on the ABC show, Josslyn Carver (Jes Macallan), April Malloy (Rachel Aytes) and Karen Kim (Yunjin Kim) seem to have an enriching sexual experience, but in the latest instalment, Season 4 episode 3, this comes to an abrupt halt.
In the upcoming episode of the ABC TV show, Karen, who is having a steamy relationship with her manny Robert (Jerry O'Connell), experiences some uncomfortable situations that make her think twice about dating her employee.
The promo for Season 4 episode 3 includes a scene in which Karen and Robert, who recently hooked up, have trouble in bed. However, this difficulty has nothing to do with their physical chemistry. Instead, it has everything to do with Karen's kid.
Robert asks her to attend to the baby right when they get cozy. Karen is shocked to be on the receiving end of her manny's orders. This shock becomes even more obvious when he tells her that she should have continued breastfeeding her baby. It remains to be seen if she will establish some boundaries as the plot progresses.
Ever since "Mistresses" premiered, Karen is known for muddying the distinction between her personal and professional life. In fact, her baby is borne out of this disruptive behaviour. But having Robert in her life seems to have lifted her spirits.
In last week's episode titled "Mistaken Identity," Karen's manny made his feelings known during her book reading for "Unleashed." The psychologist got through the dreary event thinking about the prospect of a blossoming romance.
However, will she have to fire Robert at some point so that he could just be her partner and not an employee? Or will she share the responsibilities with him? What do you think will happen? Let us know in the comments section.
"Mistresses" Season 4 episode 3 airs at 10 p.m. EST on Monday, June 13 on ABC. You can watch the past episodes online via ABC GO.