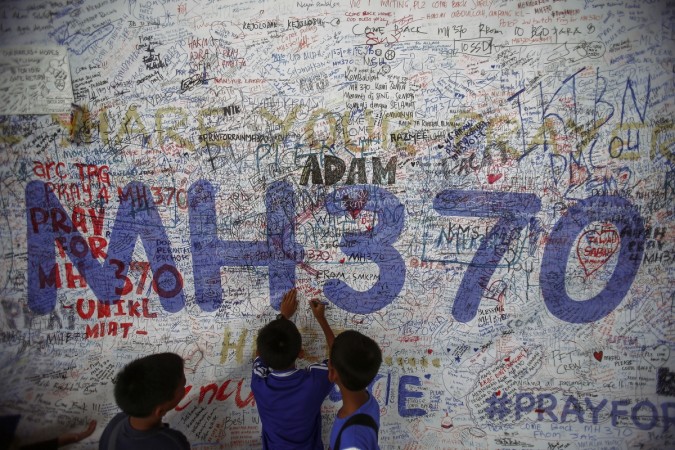 Nine months after the mysterious disappearance of the Malaysian Airlines flight MH370, a new book by an aviation expert claims to give some closure to what actually happened to the ill-fated airplane.
Unanimously dubbed as the 'greatest aviation mystery of the century', the case of the missing jet has become one of the most intriguing news item in 2014, thanks to the bizarre circumstances in which the plane simply vanished out of thin air in the wee hours of 8 March.
A publisher's description of an upcoming book released online claims that it has answers to the MH370's unsolved mystery. The description of the book titled "Malaysia Airlines Flight 370: The Plane, the Passengers and the True Story of What happened to the Missing Aircraft" was first reported by Inquisitr, after it was posted on the Skyhorse Publishing's website.
According to the pre-release information on the book written by an aviation expert and frequent CNN commentator David Soucie, the book provides "a riveting, page-turning narrative that answers the mystery the rest of the world just couldn't solve."
"Comprehensive in scope, personal and empathetic in voice, Soucie's riveting narrative offers an unparalleled history of what diplomats and investigators around the world hypothesized about why and where the plane crashed," the description reads.
"He explains what the experts were correct in investigating and what was overlooked, and the result is a clear, persuasive proclamation of the mostly likely reason for the crash, and where the plane most likely resides."
However, the author does not agree with the claims, saying that the publisher's "selling point" narrative of the book—which claims it solved the mystery— is simply "preposterous."
had nothing to do with this cover amazon or my publisher is in deep doodoo.

— David Soucie (@David_Soucie) November 10, 2014
The same description, however, can also be found on the book's Amazon page as noted by Inquisitr. More importantly, the title of the book implies that the book contains new revelations on the mystery around the 8 March incident.
The exact date of the book's release has not been specified.