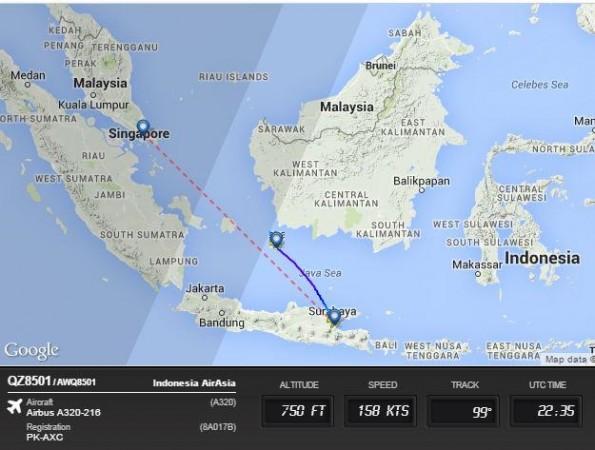 AirAsia Flight QZ8501 is the second plane to mysteriously disappear in 2014 after it lost contact with the radar on Sunday morning while flying from the Indonesian city of Surabaya to Singapore.
The jet mysteriously went missing just about 42 minutes after its take off carrying 162 people on board including the pilot and crew members.
The case's uncanny similarity to the Malaysian Airlines flight MH370 has gotten people discussing the matter with much fury and frenzy. Conspiracy theories are already piling up, many of them similar to those put forward while explaining MH370. Here are top 5 of those theories being tossed around as the QZ8501 mystery enters into its second day:
Someone Collecting Aircraft for a Future Attack?
Immediately after the AirAsia jet went missing early on Sunday, millions of people took to social media drawing the incident's parallel to the Malaysian airlines plane MH370, which disappeared in a similar manner in the wee hours of 8 March.
Although details of the latest disaster are still unfolding, there are a number of parallels between the two incidents beyond the fact that both involved Malaysian airlines. Both the aircraft disappeared from the radar system while flying over the Java Sea and both planes lost contact with the air traffic control. Both the aircraft were carrying over hundred people on-board.
With these striking similarities drawn between the two separate incidents, people have begun wondering if someone or some organisation is collecting planes to be used for a 9/11-style attack. "Wondering if someone is collecting planes for a new attack. You can't hijack them in the US easily anymore, so why not just bring your own?" remarked a reddit member in a post.
First suspicion goes to ISIS although they were not as prominent when the Malaysian airlines jet disappeared in March. Among other suspect groups includes extremist Ughurs – an Islamic minority in China's Xinjiang province.
Is it a Test for Remote Pilot Override Capabilities?
Statistically speaking it is highly improbable, if not impossible, that three flights from the same area meet similar tragic ends in the same year. First, MH370 disappeared without any trail in March, before MH17 was shot down over Ukraine in the summer. Now AirAsia Flight QZ8501 too has disappeared mysteriously.
"Other possibilities come to mind. Someone is testing their remote pilot override capabilities. Maybe at longer distances or on an Airbus to see if they can takeover non-US built aircraft," remarked a redditor with the profile OB1_kenobi.
The theory suggests that someone may have a technology to take over planes from afar, similar to the theory that went viral for MH370 which claimed it could have been the first case of air-plane cyber-hijack. It could be an experiment with the technology to prepare for larger attacks in future.
AirAsia Group CEO Tan Sri Tony Fernandes Knew About AirAsia 'Attack'?
Tan Sri Tony Fernandes, the chief executive officer for AirAsia possibly knew about an impending attack on one of the company's aircraft, one theory suggests. In the past week alone, Fernandes' investment vehicle reportedly sold a total of 944,800 shares in Tune Insurance Holdings Bhd, which is a huge number of shares being sold in such a short time.
The Malaysian Insider reported citing a filing with Bursa Malaysia that "some 850,000 shares were sold on December 22 and an additional 94,800 shares the day after. All shares were sold at RM1.60 each."
People have begun suspecting if Fernandes knew that his company stock was about to take a hit. If he knew that, he probably also knew that something amiss was going to happen to one of his flights, notes Heavy.com.
Conspiracy to Weaken Asia Pacific Economy?
What if this was an attempt by some western power to tamper with Asia's economic stability by slowing down all flights going in and out of Asia by scaring off tourists and skilled workers? This was one of the suggestions put forward in discussion forums as a theory on why so many aircraft are meeting miserable fates in the same area.
China has almost overtaken the United States in its economy and the western giant as well as many other established nations may not be very pleased by the ongoing development. If the economy in the Asia Pacific is shaken somehow, China will definitely bear the brunt of the spiralling economic downturn in the area. The theory has been named as 'Economic Terrorism' by conspiracy theorists.
Landed in a Military Base?
The area where the AirAsia aircraft went missing on Sunday was not very far from the Indonesian island naval base at Bangka Belitung, British daily Telegraph notes. This fact might fuel the kind of speculation that came about following MH370's disappearance that the flight had landed on Diego Garcia, the British-owned island in the Indian Ocean, which is home to a major US military base.