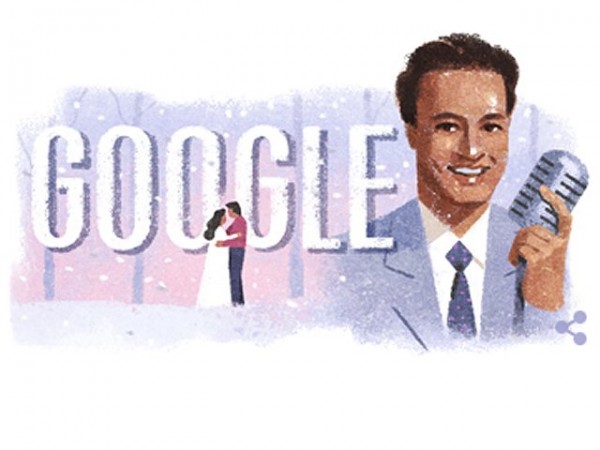 A major name who enriched the history of playback singing in India is Mukesh Chand Mathur, better known as Mukesh. There have been occasions when people have felt that the man with the golden voice from the country has been overshadowed by the likes of Kishore Kumar and Mohammed Rafi with the passing of time, but the truth be that the real music connoisseurs have never forgotten the achievement of the 'Kahin dur jab din dhal jaye' singer.
On his 93rd birth anniversary, which fell on Friday, July 22, 2016, Google India paid a perfect tribute to the veteran singer by featuring him with a microphone and a wonderful scene of a couple in the backdrop.
Romance was one of the highlights of Mukesh's illustrious career. From the early 1940s to the late 1970s, the man from Delhi ruled the Indian playback singing circuit, alongside Kishore, Rafi, Manna Dey and, of course, the evergreen Lata Mangeshkar and Geeta Dutt.
From Rajnigandha's 'Kai Baar Yuhin Dekha Hai' to the evergreen classic 'Kabhi Kabhi Mere Dil Mein' from 'Kabhi Kabhie', featuring Amitabh Bachchan and Raakhee, Mukesh forged a wonderful 'jugalbandi' (collaboration) with Mangeshkar over the years.
The nightingale of India got nostalgic on the day and took to her Twitter profile to post a message for her former colleague. "Namaskar. Aaj Mukesh bhaiya ki jayanti hai. Hum sab log unhe bahut yaad kar rahe hain. I miss you Mukesh bhaiya (hello, today is my brother Mukesh's birth anniversary. We all are remembering him on the day)," wrote Mangeshkar, 86.
Mukesh also sang most of the well-known numbers featuring the legendary Indian actor Raj Kapoor -- from 'Kisi Ki Muskurahaton Pe Ho Nisar' from 'Anari' to 'Awara Hoon' from 'Awaara' and the sentimental classic 'Jaane Kahan Gaye Woh Din' from 'Mera Naam Joker'.