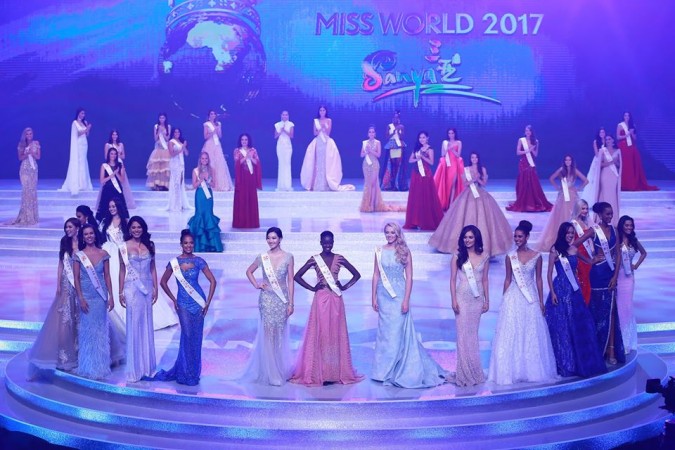 The grand finale of Miss World 2017 competition took place in China. A total of 118 contestants participated this year. The coronation night began at 7.30 pm local time and 5 pm IST/6:30 AM ET. The Miss World 2016, Miss Puerto Rico Stephanie Del Valle crowned India's Manushi Chhillar as the Miss World 2017 winner.
In Pics: Miss India Manushi Chhillar Crowned Miss World 2017 | Manushi Chhillar's HOT PHOTOS to beat the heat
This is Dishya Sharma signing out for International Business Times India, thank you for tuning into the live updates.
Here are the live updates:
10:00 PM CST: The Miss World 2017 winner is Miss India. Manushi Chhillar was crowned by Miss World 2016 Stephanie Del Valle soon after her name was announced.
The third place goes to Miss England and second place goes to Miss Mexico.
9:55 PM CST: Stephanie Del Valle took a her last walk with her crown .
9:40 PM CST: Miss India was asked which profession deserves the highest salary and why. She said a mother deserves highest respect and when salary, it is not about the cash. It is about the love and repect. Miss Kenya was asked about cyber bullying.
Miss Mexico was asked about most important quality a Miss World should possess. Her answer was love.
9:35 PM CST: Miss England was asked if she had a chance to ask global leaders a question, what it would be and she said she would question about inconsistency in global health-care. Miss France was asked about the greatest invention and why. She replied transport is the greatest invention.
9:35 PM CST: The top 5 finalist of Miss World 2017 are [in no particular order] England, India, France, Kenya and Mexico. The final question will be asked and based on the answers, judges will decide who will win.
9:30 PM CST: Beauty with a Purpose humanitarian award presented to Father Rocky. Celine Tam - Jeffrey Li performed the song "You raise me up."
9:00 PM CST: Top 10 contestants are Indonesia, Russia, England, Korea, Jamaica, Mexico, South Africa, India, Kenya and France.
8:50 PM CST: Mongolia, Russia, South Africa, El Salvador, Nigeria, India, Mexico, Indonesia, Jamaica, Kenya, France, Japan, England, Macau China, Korea, are the Top 15 quarter finalists.
8:48 PM CST: Mongolia wins the People's Choice Award.
8:45 PM CST: 9-year-old Celine Tam wins the hearts of the audience with her soothing voice.
8:40 PM CST: USA, Jamaica, Kenya, Croatia, Japan, Sweden, New Zealand, Ukraine, Korea, Poland, El Salvador, England, People's Republic of China, Brazil and Russia among the Top 40.
8:35 PM CST: Beauty with a Purpose award was presented to all the top 5 semi-finalists. Miss Philippines - Laura Lehmann, Miss India - Manushi Chhillar, Miss Indonesia - Achintya Nilsen, Miss South Africa - Ade Van Heerden and Miss Vietnam - My Linh Do are the winners.
8:30 PM CST: Miss World 2017's first performance was given by Zizi.
8:15 PM CST: Contestants who have found their way into the Top 40 are being introduced. Miss World 2017 Talent, Miss World 2017 Top Model and Miss World Sportswoman Final 2017 were introduced.
8:00 PM CST: Former Miss World Megan Young plays one of the host's this year's Miss World 2017 grand finale at Sanya, China.
7:40 PM CST: The contestants take the centre stage in the Dance of the World as part of the Miss World 2017 pre-show. Check out the pictures below:
7:30 PM CST: Are you ready to watch the new Miss World to be crowned? Stay tuned!
6:45 PM CST: Yu Wenxia (Miss World 2012), Stephanie Del Valle (Miss World 2016) and Zhang Zilin (Miss World 2007) arrive at the Sanya City Arena, China.
6:30 PM CST: The stage is set. Participants have had their final rehearsals and soon, the Miss World 2017 winner will be announced. Stay tuned to International Business Times India for all the live updates from Miss World 2017.
As of now, sub-category winners have been announced. Miss Sports was awarded to Dominican Republic's Aletxa Mueses, Nigeria's Ugochi Ihezue won the Top Model competition, Miss Talent was won by Malta's Michela Galea and Mongolian beauty Enkhjin Tseveendash won the multimedia competition.
Miss India contestant Manushi Chhillar has been performing well at the beauty pageant this year. She has found her way to the top 5 of Beauty with a Purpose competition and was placed second in the multimedia round. She was one among 20 participants shortlisted for the Top 40 round. Others short listed include Miss Philippines, Miss Mexico, Miss Indonesia and Miss France, to name a few.
To watch and support her or your favourite participant at the Miss World 2017, you can log on to the official YouTube page of Miss World. International Business Times, India, will provide you with live updates from the event as well. So, stay tuned.